Description
.300 PRC 212 Grain Barnes LRX (Lead Free)- The .300 Winchester Magnum is perhaps the most beloved hunting rifle cartridge in America. It's also the current choice among military snipers. Its popularity is based on its ability to shoot flat, reach far, and hit hard. It's not without faults, though. That's where the 300 PRC comes in.
And, when Hornady Manufacturing's ballisticians took a close look at the .300 Win. Mag and its .30-caliber magnum shelf mates, it saw an opportunity to combine the best features of the lot into a single, modern cartridge and chamber design that was missing. Tested and selected by the US Department of Defense for its extended long range sniping program, the 300 PRC is what all 30 caliber magnum cartridges want to be… but can't! Designed from the start to launch heavy-for-caliber, high performance bullets efficiently with utmost precision, the 300 PRC is a large 30 caliber match accurate cartridge designed for the 21st century and beyond.
The 300 PRC is an intelligently crafted 21st century magnum cartridge specifically designed to take advantage of long, heavy for caliber bullets capable of delivering the highest levels of accuracy and aerodynamic performance.
Based on the 375 Ruger cartridge case, the 300 PRC is non-belted and uses a standard .532" magnum bolt face and headspaces off the 30 degree shoulder. This results in better chamber alignment than standard belted magnum cartridges and allows for improved stacking and feeding from fixed magazines.
The 300 PRC cartridge and chamber were designed concurrently combining to provide excellent alignment and highly tuned performance. The cartridge case is designed to use common, temperature stable, magnum speed rifle powders producing extremely consistent velocity and increased barrel life compared to currently available magnum cartridges.
Choice Ammunition loads the .300 PRC with the same 100% hand-loading techniques as our other calibers. Our loading techniques and extremely tight tolerances are only matched by passionate hand-loaders in their own loading rooms. Our consistencies box to box and lot to lot, are created by continuous testing at the range- adjusting varied powder and brass lot formulas to match exact velocities and points of impact as the last time we loaded this caliber. Exact seating depths and our proprietary load formulas produce a round of ammunition you can count on for accuracy and dependability each and every time- and at that critical moment in the field when it all comes down to the shot!
The Bullet-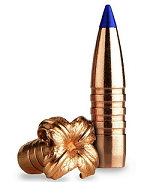 The Long-Range X Bullet (LRX) line is designed after the best-selling Tipped Triple-Shock X Bullet, the LRX bullet design increases Ballistic Coefficient values by increasing ogive and boat tail lengths to improve the bullets' long-range ballistic performance. For the hunter who is confident in long-range hunting, the LRX will fill the niche of this new hunting craze. LRX bullets will continue to be manufactured with the proven 100-percent copper, lead-free bodies. The bullet's polymer tip initiates expansion, causing the nose cavity to open instantly on contact doubling the bullet's original diameter while creating four cutting petals that wreak extensive internal damage. Exceptional performance means clean, quick kill.
Velocity 2,902 fps
100% Hand-Loaded