Description
.300 PRC 200 Grain Hornady ELD-X (Lead Free)- The .300 Winchester Magnum is perhaps the most beloved hunting rifle cartridge in America. It's also the current choice among military snipers. Its popularity is based on its ability to shoot flat, reach far, and hit hard. It's not without faults, though. That's where the 300 PRC comes in.
And, when Hornady Manufacturing's ballisticians took a close look at the .300 Win. Mag and its .30-caliber magnum shelf mates, it saw an opportunity to combine the best features of the lot into a single, modern cartridge and chamber design that was missing. Tested and selected by the US Department of Defense for its extended long range sniping program, the 300 PRC is what all 30 caliber magnum cartridges want to be… but can't! Designed from the start to launch heavy-for-caliber, high performance bullets efficiently with utmost precision, the 300 PRC is a large 30 caliber match accurate cartridge designed for the 21st century and beyond.
The 300 PRC is an intelligently crafted 21st century magnum cartridge specifically designed to take advantage of long, heavy for caliber bullets capable of delivering the highest levels of accuracy and aerodynamic performance.
Based on the 375 Ruger cartridge case, the 300 PRC is non-belted and uses a standard .532" magnum bolt face and headspaces off the 30 degree shoulder. This results in better chamber alignment than standard belted magnum cartridges and allows for improved stacking and feeding from fixed magazines.
The 300 PRC cartridge and chamber were designed concurrently combining to provide excellent alignment and highly tuned performance. The cartridge case is designed to use common, temperature stable, magnum speed rifle powders producing extremely consistent velocity and increased barrel life compared to currently available magnum cartridges.
Choice Ammunition loads the .300 PRC with the same 100% hand-loading techniques as our other calibers. Our loading techniques and extremely tight tolerances are only matched by passionate hand-loaders in their own loading rooms. Our consistencies box to box and lot to lot, are created by continuous testing at the range- adjusting varied powder and brass lot formulas to match exact velocities and points of impact as the last time we loaded this caliber. Exact seating depths and our proprietary load formulas produce a round of ammunition you can count on for accuracy and dependability each and every time- and at that critical moment in the field when it all comes down to the shot!
The Bullet-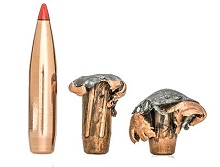 The Heat Shield tip of the Hornady ELD-X bullet defies the effects of aerodynamic heating and retains its shape to provide a perfect meplat (tip) that is always the same shape. A streamlined secant ogive with optimum boat-tail design, plus the highly concentric AMP bullet jackets, combined with the patent pending Heat Shield tip creates a supremely accurate, high BC match bullet. ELD-Match bullet BCs are measured with Doppler radar and corrected to standard atmospheric conditions. With high velocity, 0-400 yard impact, the bullet continually expands throughout its penetration path. The thick shank of the jacket and high Interlock ring keep the core and jacket together providing 50-60% weight retention. Upon low velocity, 400+ yard impacts, the Heat Shield tip drives backward into the bullet to initiate expansion. Exhibiting conventional expansion with a large mushroom and 85-90% retained weight the bullet provides deep penetration and large wound cavities.
Velocity 3,015 fps
100% Hand Loaded