Description
.300 Weatherby 180 Grain Nosler AccuBond~ Roy Weatherby already had experience with other custom cartridges such as his own .270 Weatherby Magnum when he created the .300 Weatherby. Like most of his other magnum cartridges, this is based on a blown-out .300 H&H Magnum case, using the signature Weatherby double-radius shoulder.
It is often debated which came first the 300 Winchester Magnum or the 300 Weatherby Magnum, the Weatherby was first 1944 vs the Winchester was introduced in 1963. With the .300 Remington Ultra Magnum being introduced in 1999. Historically, Weatherby claimed that this is the most powerful .30 caliber magnum rifle commercially available, but the recently introduced .300 RUM and Weatherby's own .30-378 Weatherby Magnum are now more powerful. One could say, the .300 Weatherby was 50 years ahead of its time as it has only been recently that suitable optics and range finders for long range hunting have been available to the public at affordable prices.
The .300 Wby is in common use by big-game hunters all over the world.
Choice Ammunition has taken our 100% hand-loading techniques and produce an extremely accurate, highly dependable round for the .300 Weatherby in this load. Our loading tolerances are only matched by passionate hand-loaders in their own loading rooms. Consistent seating depths, powder charges and proprietary formulas of Choice Ammunition, make this 180 grain Nosler AccuBond round the best you can buy on the commercial market today.
The Bullet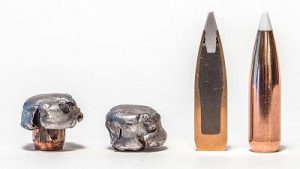 Through an exclusive bonding process that eliminates voids in the bullet core, AccuBond couples Nosler's proven copper-alloy jacket with its special lead-alloy core. The result is a bullet that flies true, penetrates deep and retains its weight, without causing extensive barrel fouling. The unique white polymer tip resists deforming and initiates expansion on impact. Nosler's Solid Base at the rear of the bullet acts as a platform for large diameter mushrooms.
Velocity 3,180 fps
100% Hand Loaded
These high-performance rounds provide excellent reliability, consistency, accuracy and stopping power for hunting most game.