Description
.243 Winchester 75 Grain Hornady V-Max with Lapua Brass~ Our 100% Hand-Loaded .243 Winchester 75 grain Hornady V-Max rounds are loaded with extremely tight tolerances, producing highly accurate, consistent and reliable performance with each and every shot!
The .243 Winchester (6×52mm) is a popular sporting rifle cartridge. Initially designed as a target/varmint round, it may be used for animals such as coyotes, blacktail deer, whitetail deer, mule deer, pronghorns, and wild hogs. It can also be used against larger animals such as black bears and elk but is sometimes said to be "too light" for such large animals. Rounds of at least 90 grains are better suited for hunting larger animals while rounds less than 90 grains are more suitable for varmints. The .243 is based on a necked down .308 cartridge case. It is very popular with target shooters, metallic silhouette, and long range shooters, because of its accuracy and low recoil. This cartridge was first introduced in 1955 for the Winchester Model 70 bolt-action and Model 88 lever-action sporting rifles and quickly gained popularity among sportsmen worldwide. Just about every major manufacturer offers rifles chambered in .243.
The Bullet: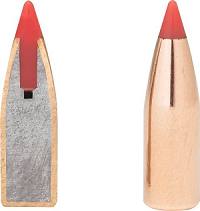 Hornady V-Max Bullets feature a polymer tip which enhances accuracy and promotes devastating expansion. The tip raises the ballistic coefficient for faster velocity and also acts as a wedge, initiating bullet expansion. The flat base creates in-flight stability for long-range shooting.
Hornady's swaging process creates precise formation of the core around the tip of the bullet, creating a build-up of energy which contributes to its phenomenal performance.
Velocity 3,050 fps
100% Hand Loaded