Description
.375 H&H Magnum 260 Grain Nosler AccuBond~ The .375 Holland & Holland Magnum is a medium-bore rifle cartridge. The .375 H&H was only the second cartridge ever to feature a belt, now common among magnum rounds. On these new rimless cartridges the belt replaced the rim in ensuring the correct headspace, which otherwise might be unreliable, given the narrow shoulder of the cartridge case. The British company Holland & Holland introduced the cartridge in 1912 as the .375 Belted Rimless Nitro-Express.
The .375 H&H Magnum is one of the most versatile cartridges and is referred to by Jack O'Connor as the "Queen of the Medium Bores". The cartridge is very popular in Africa where it is considered one of the best all-round rifle cartridges. It is capable of taking any big species including all the Big Five game animals. The big game hunter, John "Pondoro" Taylor, held the .375 H&H Magnum in such high esteem that he dedicated a chapter in the book African Rifles and Cartridges.
Ammunition loaded with the 300 gr or heavier bullet the .375 H&H is adequate for heavy thick skinned dangerous game such as elephant and rhinoceros in most conditions. There is some speculation that the .375 H&H Magnum has been used to take more Big Five game than any other cartridge. Even today, many professional hunters, outfitters and wildlife management personnel in Africa continue to rely on the .375 H&H Magnum to carry out their duties throughout the continent.
Choice Ammunition has taken our 100% hand-loading techniques and produce an extremely accurate, highly dependable round for the .375 H&H in this load. Our loading tolerances are only matched by passionate hand-loaders in their own loading rooms. Consistent seating depths, powder charges and proprietary formulas of Choice Ammunition, make this 260 grain Solid the best you can buy on the commercial market today.
The Bullet–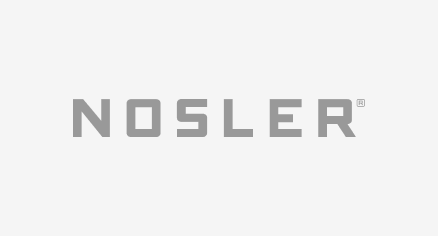 Engineered to match the ballistic performance of the Nosler Partition®, Nosler® Solids™ will give you the bone crushing punch necessary when your life is on the line. The flat-nose design reduces deflection off of bone and muscle for deep penetration and an impressively straight wound channel while the seating groove produces optimal load versatility. Whether being used for initial shots on elephant or follow-up shots on Cape buffalo, the Solid™ bullet's lead-free alloy construction delivers lethal penetration on thick skinned, heavy boned, dangerous game.
Velocity 2,738 fps
100% Hand Loaded