Description
.375 H&H Magnum 250 grain Barnes Tipped Triple-Shock  (TTSX)~ The .375 Holland & Holland Magnum is a medium-bore rifle cartridge. The .375 H&H was only the second cartridge ever to feature a belt, now common among magnum rounds. On these new rimless cartridges the belt replaced the rim in ensuring the correct headspace, which otherwise might be unreliable, given the narrow shoulder of the cartridge case. The British company Holland & Holland introduced the cartridge in 1912 as the .375 Belted Rimless Nitro-Express.
The .375 H&H Magnum is one of the most versatile cartridges and is referred to by Jack O'Connor as the "Queen of the Medium Bores". The cartridge is very popular in Africa where it is considered one of the best all-round rifle cartridges. It is capable of taking any big species including all the Big Five game animals. The big game hunter, John "Pondoro" Taylor, held the .375 H&H Magnum in such high esteem that he dedicated a chapter in the book African Rifles and Cartridges.
Ammunition loaded with the 300 gr or heavier bullet the .375 H&H is adequate for heavy thick skinned dangerous game such as elephant and rhinoceros in most conditions. There is some speculation that the .375 H&H Magnum has been used to take more Big Five game than any other cartridge. Even today, many professional hunters, outfitters and wildlife management personnel in Africa continue to rely on the .375 H&H Magnum to carry out their duties throughout the continent.
Choice Ammunition has taken our 100% hand-loading techniques and produce an extremely accurate, highly dependable round for the .375 H&H in this load. Our loading tolerances are only matched by passionate hand-loaders in their own loading rooms. Consistent seating depths, powder charges and proprietary formulas of Choice Ammunition, make this 250 grain Barnes TTSX round the best you can buy on the commercial market today.
The Bullet-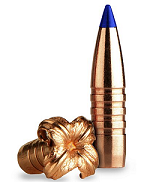 100-PERCENT COPPER BODY
Since its introduction in 2003, Barnes' TSX Bullet has earned a reputation as "the perfect hunting bullet." Now, Barnes has improved on perfection by adding a streamlined polymer tip. The new Tipped TSX features the same 100-percent copper body with multiple rings cut into the shank. It delivers the same gnat's-eyelash accuracy and "dead right there" performance—but with an added polymer tip that boosts BC and improves long-range ballistics. The tip and a re-engineered nose cavity provide even faster expansion. Complete penetration, virtually 100-percent weight retention and four razor-sharp cutting petals that double bullet diameter means the new Tipped TSX creates more internal damage than any competing bullet. Instant expansion and perfect penetration ensures cleaner, quicker kills.
Velocity 2,760 fps
100% Hand Loaded