Description
.338 Winchester Magnum 225 Grain Swift A-Frame– The .338 Winchester Magnum is a .338 caliber, belted, rimless, bottlenecked cartridge introduced in 1958 by Winchester Repeating Arms. It is based on the blown-out, shortened .375 H&H Magnum. The .338 in is the caliber at which medium-bore cartridges are considered to begin. The .338 Winchester Magnum is the first choice among professional brown bear (specifically grizzly bear) guides in Alaska to back up clients where a powerful stopping caliber is required on charging bears. It is also the most popular medium-bore cartridge in North America and has the most widely available choice in rifles among medium bore rifles. The action length is the same as a .30-06 and most major rifle manufacturers in the United States chamber rifles for the cartridge including the semi-automatic Browning BAR Mk II Safari, making it a very powerful combination against charging dangerous game.
The .338 Winchester Magnum traces its heritage to the experiments conducted by Charles O'Neil, Elmer Keith and Don Hopkins with cartridges firing .333 bullets in the late 1940s.
Choice Ammunition has taken our 100% hand-loading techniques and produce an extremely accurate, highly dependable round for the 338 Winchester Magnum in this load. Our loading tolerances are only matched by passionate hand-loaders in their own loading rooms. Consistent seating depths, powder charges and proprietary formulas of Choice Ammunition, make this 225 Grain Swift A-Frame round the best you can buy on the commercial market today.
The Bullet-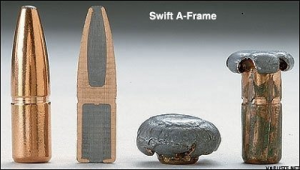 Swift A-Frame fans, here you go! For 28 years A-Frame rifle bullets have set the standard by which all bonded bullets are measured. With its controlled expansion of 2.2x and 95%+ weight retention A-Frame penetrates deep and mushrooms perfectly, making it the choice of hunters for use on any game, anywhere in the world. With our hand-loaded manufacturing process and tightest load tolerances in the industry, count on Choice Ammunition to provide the most accurate, reliable and consistent round available on the market today!
Velocity 2890 fps
100% Hand-Loaded