Description
.450 Bushmaster 250 Grain Barnes TTSX (Lead Free)- The .450 Bushmaster is a rifle cartridge developed by Tim LeGendre of LeMag Firearms, and licensed to Bushmaster Firearms International.
The .450 Bushmaster makes use of .452 in. bullets because the lower impact velocities and energies would not adequately expand the heavier jacketed .458 in. bullets. The cartridge is chambered in bolt-action rifles by Ruger, Savage, Mossberg, and Remington, Ruger's No. 1 single shot rifle, AR-15 rifles, as well as an AR-15 pistol by Franklin Armory.
Ballistically, the .450 Bushmaster has a rather flat trajectory out to 200 yards; if the firearm is zeroed at 150 yards, the user can expect to see a rise of 1.8 inches at 100 yards, zero at 150 yards, and a drop of 4.9 inches at 200 yards. The cartridge fits single-stacked in a standard AR-15 magazine with a single-stack follower. A 10-round AR-15 magazine body yields a four-round magazine, a 20-round AR-15 magazine body yields a five- to seven-round magazine, and a 30-round body yields a nine-round magazine.
450 Bushmaster has a trajectory of +3.0" at 100 yards and -13.7" at 250 yards, while . 350 Legend checks in at +2.9" and -15.7", respectively. In other words, they are both very flat shooters inside of 200 yards, with a sweet spot right around the 165-yard mark, and both rapidly start to fall off after 200 yards.
Choice Ammunition, and our 100% Hand-Loading techniques- produce a round of ammunition for the .450 Bushmaster that is demanded in big game hunting. Accuracy, consistency and dependability are crucial at that final moments of your hunt. Choice Ammunition takes this responsibility seriously by meticulously weighing each powder charge with our proprietary formulas and temperature insensitive powders, seating the bullet at the exact length for optimal performance and test firing each and every lot of ammunition at an average of 500% over industry average. We have no high speed production machines- only passionate and dedicated load technicians pulling each and every handle, producing one round of ammunition at a time. 
The Bullet-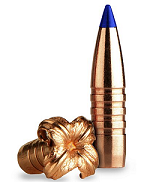 100-PERCENT COPPER BODY
Since its introduction in 2003, Barnes' TSX Bullet has earned a reputation as "the perfect hunting bullet." Now, Barnes has improved on perfection by adding a streamlined polymer tip. The new Tipped TSX features the same 100-percent copper body with multiple rings cut into the shank. It delivers the same gnat's-eyelash accuracy and "dead right there" performance—but with an added polymer tip that boosts BC and improves long-range ballistics. The tip and a re-engineered nose cavity provide even faster expansion. Complete penetration, virtually 100-percent weight retention and four razor-sharp cutting petals that double bullet diameter means the new Tipped TSX creates more internal damage than any competing bullet. Instant expansion and perfect penetration ensures cleaner, quicker kills.
Velocity 2,221 fps
100% Hand Loaded