Description
.270 Winchester 150 grain Berger VLD-Hunting~ The .270 Winchester (or 6.8×64mm) was developed by Winchester Repeating Arms Company in 1923 and unveiled in 1925 as a chambering for their bolt-action Model 54. The cartridge is a necked down.30-03, which is the same length as the .280 Remington, both of which are longer than the .30-06 Springfield. The .270 Winchester became a very popular cartridge due to the widespread praises of gunwriters like Townsend Whelen and Jack O'Connor who used the cartridge for 40 years and touted its merits in the pages of Outdoor Life. The cartridge demonstrated high performance at the time of its introduction and was marketed as being suitable for big game shooting in the 270 to 460 metres (300 to 500 yd) range. Two additional bullet weights were soon introduced: a 6.5 grams (100 gr) hollow-point bullet for varmint shooting, and a 9.7 grams (150 gr) bullet for larger deer, elk, and moose in big-game hunting.
Our 100% Hand-Loaded .270 Berger VLD-Hunting rounds are loaded with extremely tight tolerances, producing highly accurate, consistent and reliable performance with each and every shot! We feel our proprietary load formulas and loading process create the finest round of ammunition available on the commercial market today. If you don't load your own ammunition- let us do it for you!
The Bullet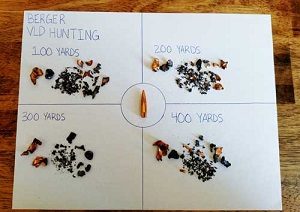 The Berger VLD design incorporates a sharp nose that allows the bullet to penetrate 2″ to 3″ before it starts to expand. After the initial expansion, the bullet will shed between 40% and 85% of its weight as shrapnel into the surrounding tissue (internal organs). The combination between the shrapnel and the hydrostatic shock produces a massive wound cavity within the vital area that will be 13″ – 15″ long. This massive wound cavity results in the animal dropping fast since most go into shock after such a tremendous blow. Those animals that don't go down immediately will soon succumb to blood pressure loss and/or organ failure producing a quick ethical kill.
Velocity 2,910 fps
100% Hand Loaded