Description
.270 Winchester 130 grain Berger Classic Hunter~ The .270 Winchester (or 6.8×64mm) was developed by Winchester Repeating Arms Company in 1923 and unveiled in 1925 as a chambering for their bolt-action Model 54. The cartridge is a necked down .30-03, which is the same length as the .280 Remington, both of which are longer than the .30-06 Springfield. The .270 Winchester became a very popular cartridge due to the widespread praises of gunwriters like Townsend Whelen and Jack O'Connor who used the cartridge for 40 years and touted its merits in the pages of Outdoor Life. The cartridge demonstrated high performance at the time of its introduction and was marketed as being suitable for big game shooting in the 270 to 460 metres (300 to 500 yd) range. Two additional bullet weights were soon introduced: a 6.5 grams (100 gr) hollow-point bullet for varmint shooting, and a 9.7 grams (150 gr) bullet for larger deer, elk, and moose in big-game hunting.
Our 100% Hand-Loaded .270 Berger Classic Hunter rounds are loaded with extremely tight tolerances, producing highly accurate, consistent and reliable performance with each and every shot! We feel our proprietary load formulas and loading process create the finest round of ammunition available on the commercial market today. If you don't load your own ammunition- let us do it for you!
The Bullet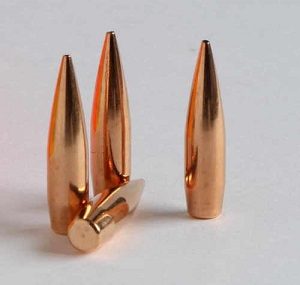 The Berger Classic Hunter Series is designed for the discriminating shooter and outdoorsman who insists that his loaded rounds function flawlessly through any rifle magazine. Berger Classic Hunters are tailored specifically for factory rifle applications where SAAMI length loaded rounds are a must, and they are offered in select weights that provide exceptional downrange performance in today's factory rifles. No custom barrels, special twist rates or reloading tricks are needed to achieve cutting-edge results.
Classic Hunter ballistic coefficients (BC's) exceed other market offerings due to the unique ogive properties provided by our innovative hybrid-shaped bullet nose. The hybrid design combines the best of both tangent and secant ogive features, resulting in optimal ballistic performance with less sensitivity to bullet seating depth. Easy to load and shoot, the Classic Hunter Series include Berger match-grade quality materials and award-winning results. This is not loaded ammunition.
Velocity 3,055 fps
100% Hand Loaded
These high-performance rounds provide excellent reliability, consistency, accuracy and stopping power for hunting most game.