Description
.270 Winchester 140 grain Hornady SST~ The .270 Winchester (or 6.8×64mm) was developed by Winchester Repeating Arms Company in 1923 and unveiled in 1925 as a chambering for their bolt-action Model 54. The cartridge is a necked down .30-03, which is the same length as the .280 Remington, both of which are longer than the .30-06 Springfield. The .270 Winchester became a very popular cartridge due to the widespread praises of gunwriters like Townsend Whelen and Jack O'Connor who used the cartridge for 40 years and touted its merits in the pages of Outdoor Life. The cartridge demonstrated high performance at the time of its introduction and was marketed as being suitable for big game shooting in the 270 to 460 metres (300 to 500 yd) range. Two additional bullet weights were soon introduced: a 6.5 grams (100 gr) hollow-point bullet for varmint shooting, and a 9.7 grams (150 gr) bullet for larger deer, elk, and moose in big-game hunting.
Our 100% Hand-Loaded .270 Hornady SST rounds are loaded with extremely tight tolerances, producing highly accurate, consistent and reliable performance with each and every shot! We feel our proprietary load formulas and loading process create the finest round of ammunition available on the commercial market today. If you don't load your own ammunition- let us do it for you!
The Bullet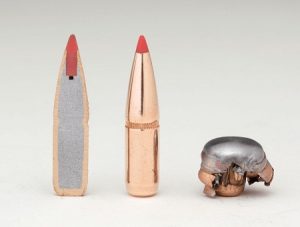 Super Shock Tip Bullets combine proven Hornady performance with a higher ballistic coefficient than available with most hunting bullets. The sharp, pointed polymer tip creates a faster, flatter shooting bullet. With its one-piece core and jacket strengthened in critical areas, the SST delivers much more controlled expansion and superior weight retention than other tipped bullets. Featuring Hornady's trade mark Interlock ring system, this bullet's core and jacket remain locked solid during expansion, creating massive wound channels.
Velocity 2900 fps
100% Hand Loaded
These high-performance rounds provide excellent reliability, consistency, accuracy and stopping power for hunting most game.