Description
7mm-08 150 grain Hornady ELD-X~ The 7mm-08 Remington works in most hunting environments, including dense forest areas and large open fields. Of cartridges based upon the .308, it is the second most popular behind only the .243 Winchester. It has a flatter trajectory than the .308 Win. and .30-06 Springfield at similar bullet weights because the slightly smaller-diameter 7mm bullet generally has a better ballistic coefficient (BC), and is thus less affected by drag and crosswind while in flight. Its trajectory is comparable to the .270 Winchester.
Its recoil is a bit more than a .243 Win. and less than most loads in a .308 Win. This mild recoil makes it suitable for youth and adults who are new shooters; however, the cartridge serves experienced shooters and hunters equally well.
Choice Ammunition, and our 100% Hand-Loading techniques- produce a round of ammunition for the .7mm-08 that is demanded in big game hunting. Accuracy, consistency and dependability are crucial at that final moments of your hunt. Choice Ammunition takes this responsibility seriously by meticulously weighing each powder charge with our proprietary formulas and temperature insensitive powders, seating the bullet at the exact length for optimal performance and test firing each and every lot of ammunition at an average of 500% over industry average. We have no high speed production machines- only passionate and dedicated load technicians pulling each and every handle, producing one round of ammunition at a time. 
The Bullet-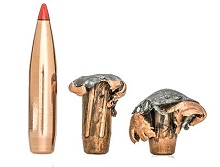 The Heat Shield tip of the Hornady ELD-X bullet defies the effects of aerodynamic heating and retains its shape to provide a perfect meplat (tip) that is always the same shape. A streamlined secant ogive with optimum boattail design, plus the highly concentric AMP bullet jackets, combined with the patent pending Heat Shield tip creates a supremely accurate, high BC match bullet. ELD-Match bullet BCs are measured with Doppler radar and corrected to standard atmospheric conditions. With high velocity, 0-400 yard impact, the bullet continually expands throughout its penetration path. The thick shank of the jacket and high Interlock ring keep the core and jacket together providing 50-60% weight retention. Upon low velocity, 400+ yard impacts, the Heat Shield tip drives backward into the bullet to initiate expansion. Exhibiting conventional expansion with a large mushroom and 85-90% retained weight the bullet provides deep penetration and large wound cavities.
Velocity 2,745 fps
100% Hand Loaded