Description
.300 Winchester Short Magnum 200 Grain Hornady ELD-X~ The principle at work in the short magnum cartridge is the advantage of fitting larger volumes of powder in closer proximity to the primer's flash hole, resulting in more uniform, consistent ignition. The advantage to this round is the ballistics are nearly identical to the .300 Winchester Magnum, but in a lighter rifle with a shorter action. The .300 WSM is adequate for hunting moose, black bear, brown bear, elk, mule deer, and white-tailed deer in forests and plains where long range, flat shots are necessary. The .300 WSM is also used in benchrest shooting.
Choice Ammunition has introduced the .300 WSM with the same 100% hand-loading techniques as our other calibers. Our loading techniques and extremely tight tolerances are only matched by passionate hand-loaders in their own loading rooms. Our consistencies box to box and lot to lot, are created by continuous testing at the range- adjusting varied powder and brass lot formulas to match exact velocities and points of impact as the last time we loaded this caliber. Exact seating depths and our proprietary load formulas produce a round of ammunition you can count on for accuracy and dependability each and every time- and at that critical moment in the field when it all comes down to the shot!
The Bullet-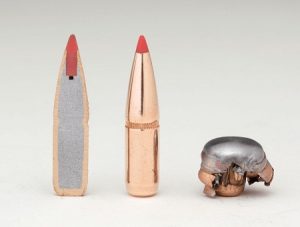 The Heat Shield tip of the Hornady ELD-X bullet defies the effects of aerodynamic heating and retains its shape to provide a perfect meplat (tip) that is always the same shape. A streamlined secant ogive with optimum boattail design, plus the highly concentric AMP bullet jackets, combined with the patent pending Heat Shield tip creates a supremely accurate, high BC match bullet. ELD-Match bullet BCs are measured with Doppler radar and corrected to standard atmospheric conditions. With high velocity, 0-400 yard impact, the bullet continually expands throughout its penetration path. The thick shank of the jacket and high Interlock ring keep the core and jacket together providing 50-60% weight retention. Upon low velocity, 400+ yard impacts, the Heat Shield tip drives backward into the bullet to initiate expansion. Exhibiting conventional expansion with a large mushroom and 85-90% retained weight the bullet provides deep penetration and large wound cavities.
Velocity 2,835 fps
100% Hand Loaded