Description
.300 Winchester Short Magnum 185 Grain Berger VLD-H~ The principle at work in the short magnum cartridge is the advantage of fitting larger volumes of powder in closer proximity to the primer's flash hole, resulting in more uniform, consistent ignition. The advantage to this round is the ballistics are nearly identical to the .300 Winchester Magnum, but in a lighter rifle with a shorter action. The .300 WSM is adequate for hunting moose, black bear, brown bear, elk, mule deer, and white-tailed deer in forests and plains where long range, flat shots are necessary. The .300 WSM is also used in benchrest shooting.
Choice Ammunition has taken our 100% hand-loading techniques and produce an extremely accurate, highly dependable round for the .300 Winchester Short Magnum in this load. Our loading tolerances are only matched by passionate hand-loaders in their own loading rooms. Consistent seating depths, powder charges and proprietary formulas of Choice Ammunition, make this 185 grain Berger VLD-Hunting round the best you can buy on the commercial market today.
The Bullet-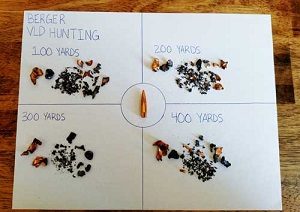 The Berger VLD design incorporates a sharp nose that allows the bullet to penetrate 2″ to 3″ before it starts to expand. After the initial expansion, the bullet will shed between 40% and 85% of its weight as shrapnel into the surrounding tissue (internal organs). The combination between the shrapnel and the hydrostatic shock produces a massive wound cavity within the vital area that will be 13″ – 15″ long. This massive wound cavity results in the animal dropping fast since most go into shock after such a tremendous blow. Those animals that don't go down immediately will soon succumb to blood pressure loss and/or organ failure producing a quick ethical kill.
100% Hand-Loaded
Velocity 2912 fps