Description
.300 Winchester Short Magnum 168 Grain Barnes TTSX~ The principle at work in the short magnum cartridge is the advantage of fitting larger volumes of powder in closer proximity to the primer's flash hole, resulting in more uniform, consistent ignition. The advantage to this round is the ballistics are nearly identical to the .300 Winchester Magnum, but in a lighter rifle with a shorter action. The .300 WSM is adequate for hunting moose, black bear, brown bear, elk, mule deer, and white-tailed deer in forests and plains where long range, flat shots are necessary. The .300 WSM is also used in benchrest shooting.
Our 100% Hand-Loaded .300 WSM Barnes TTSX rounds are loaded with extremely tight tolerances, producing highly accurate, consistent and reliable performance with each and every shot! We feel our proprietary load formulas and loading process create the finest round of ammunition available on the commercial market today. If you don't load your own ammunition- let us do it for you!
The Bullet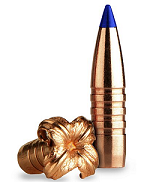 100-PERCENT COPPER BODY
Since its introduction in 2003, Barnes' TSX Bullet has earned a reputation as "the perfect hunting bullet." Now, Barnes has improved on perfection by adding a streamlined polymer tip. The new Tipped TSX features the same 100-percent copper body with multiple rings cut into the shank. It delivers the same gnat's-eyelash accuracy and "dead right there" performance—but with an added polymer tip that boosts BC and improves long-range ballistics. The tip and a re-engineered nose cavity provide even faster expansion. Complete penetration, virtually 100-percent weight retention and four razor-sharp cutting petals that double bullet diameter means the new Tipped TSX creates more internal damage than any competing bullet. Instant expansion and perfect penetration ensures cleaner, quicker kills.
Velocity 3,140 fps
100% Hand Loaded