Description
.260 Remington 120 Grain Barnes TTSX (Lead Free)~ The .260 Remington (also known as 6.5-08 A-Square) cartridge was introduced by Remington in 1997. Many wildcat cartridges based on the .308 Winchester case had existed for years before Remington standardized this round. The .260 Remington has become very popular with metallic silhouette shooters. The 2014 NRA National Championship equipment survey lists the .260 Remington as most popular caliber for both the high power rifle and high power hunter rifle competition. The .260 Remington is effective on antelope, sheep, goat, or caribou. While capable of taking Class 3 game such as elk and moose, some hunters, particularly Canadian professional hunters who hunt large moose and elk, consider it slightly underpowered for these species and best used for smaller deer species such as white-tail and mule deer.
Choice Ammunition, and our 100% Hand-Loading techniques- produce a round of ammunition for the .260 Remington that is demanded in big game hunting. Accuracy, consistency and dependability are crucial at that final moments of your hunt. Choice Ammunition takes this responsibility seriously by meticulously weighing each powder charge with our proprietary formulas and temperature insensitive powders, seating the bullet at the exact length for optimal performance and test firing each and every lot of ammunition at an average of 500% over industry average. We have no high speed production machines- only passionate and dedicated load technicians pulling each and every handle, producing one round of ammunition at a time. 
The Bullet-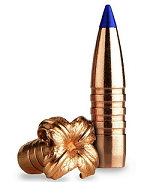 100-PERCENT COPPER BODY
Since its introduction in 2003, Barnes' TSX Bullet has earned a reputation as "the perfect hunting bullet." Now, Barnes has improved on perfection by adding a streamlined polymer tip. The new Tipped TSX features the same 100-percent copper body with multiple rings cut into the shank. It delivers the same gnat's-eyelash accuracy and "dead right there" performance—but with an added polymer tip that boosts BC and improves long-range ballistics. The tip and a re-engineered nose cavity provide even faster expansion. Complete penetration, virtually 100-percent weight retention and four razor-sharp cutting petals that double bullet diameter means the new Tipped TSX creates more internal damage than any competing bullet. Instant expansion and perfect penetration ensures cleaner, quicker kills.
Velocity 3,003 fps
100% Hand-Loaded