Description
.260 Remington 130 grain Berger VLD-H~ The .260 Remington (also known as 6.5-08 A-Square) cartridge was introduced by Remington in 1997. Many wildcat cartridges based on the .308 Winchester case had existed for years before Remington standardized this round. The .260 Remington has become very popular with metallic silhouette shooters. The 2014 NRA National Championship equipment survey lists the .260 Remington as most popular caliber for both the high power rifle and high power hunter rifle competition.
The .260 Remington uses the .308 Winchester case as its parent cartridge which is simply necked down to accept a .264 caliber bullet with no further changes made to the case. As the cartridge follows a modern design, it has little taper which allowed its parent cartridge to feed reliably through auto-loading rifles
The .260 Remington is effective on antelope, sheep, goat, or caribou. While capable of taking Class 3 game such as elk and moose, some hunters, particularly Canadian professional hunters who hunt large moose and elk, consider it slightly underpowered for these species and best used for smaller deer species such as white-tail and mule deer.
Choice Ammunition has taken our 100% hand-loading techniques and produce an extremely accurate, highly dependable round for the .260 Remington in this load. Our loading tolerances are only matched by passionate hand-loaders in their own loading rooms. Consistent seating depths, powder charges and proprietary formulas of Choice Ammunition, make this 130 Berger VLD-H round the best you can buy on the commercial market today.
The Bullet: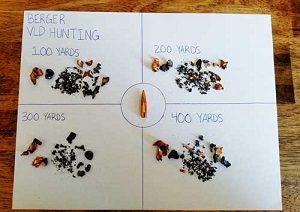 The Berger VLD design incorporates a sharp nose that allows the bullet to penetrate 2″ to 3″ before it starts to expand. After the initial expansion, the bullet will shed between 40% and 85% of its weight as shrapnel into the surrounding tissue (internal organs). The combination between the shrapnel and the hydrostatic shock produces a massive wound cavity within the vital area that will be 13″ – 15″ long. This massive wound cavity results in the animal dropping fast since most go into shock after such a tremendous blow. Those animals that don't go down immediately will soon succumb to blood pressure loss and/or organ failure producing a quick ethical kill.
100% Hand-Loaded
Velocity 2,868