Description
.338 Winchester Magnum 225 Grain Barnes TSX– The .338 Winchester Magnum is a .338 caliber, belted, rimless, bottlenecked cartridge introduced in 1958 by Winchester Repeating Arms. It is based on the blown-out, shortened .375 H&H Magnum. The .338 in is the caliber at which medium-bore cartridges are considered to begin. The .338 Winchester Magnum is the first choice among professional brown bear (specifically grizzly bear) guides in Alaska to back up clients where a powerful stopping caliber is required on charging bears. It is also the most popular medium-bore cartridge in North America and has the most widely available choice in rifles among medium bore rifles. The action length is the same as a .30-06 and most major rifle manufacturers in the United States chamber rifles for the cartridge including the semi-automatic Browning BAR Mk II Safari, making it a very powerful combination against charging dangerous game.
The .338 Winchester Magnum traces its heritage to the experiments conducted by Charles O'Neil, Elmer Keith and Don Hopkins with cartridges firing .333 bullets in the late 1940s.
Choice Ammunition has introduced the .338 Winchester Magnum in the 285 grain Barnes TSX with the same 100% hand-loading techniques as our other calibers. Our loading techniques and extremely tight tolerances are only matched by passionate hand-loaders in their own loading rooms. Our consistencies box to box and lot to lot, are created by continuous testing at the range- adjusting varied powder and brass lot formulas to match exact velocities and points of impact as the last time we loaded this caliber. Exact seating depths and our proprietary load formulas produce a round of ammunition you can count on for accuracy and dependability each and every time- and at that critical moment in the field when it all comes down to the shot!
The Bullet: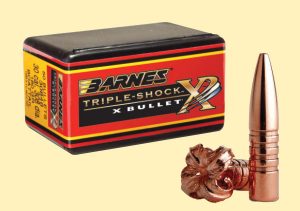 Since its introduction in 2003, Barnes' TSX Bullet has earned a reputation as "the perfect hunting bullet." Now, Barnes has improved on perfection by adding a streamlined polymer tip. The new Tipped TSX features the same 100-percent copper body with multiple rings cut into the shank. It delivers the same gnat's-eyelash accuracy and "dead right there" performance—but with an added polymer tip that boosts BC and improves long-range ballistics. The tip and a re-engineered nose cavity provide even faster expansion. Complete penetration, virtually 100-percent weight retention and four razor-sharp cutting petals that double bullet diameter means the new Tipped TSX creates more internal damage than any competing bullet. Instant expansion and perfect penetration ensures cleaner, quicker kills.
Velocity: 2,358 FPS
100% Hand-Loaded