Description
.300 Winchester Magnum 220 grain Sierra Matchking HPBT~ The .300 Winchester Magnum (also known as .300 Win Mag or 300WM) (7.62×67mm) is a belted, bottlenecked magnum rifle cartridge that was introduced by Winchester Repeating Arms Company in 1963. The .300 Winchester Magnum is a magnum cartridge designed to fit in a standard rifle action. It is based on the .375 H&H Magnum, which has been blown out, shortened, and necked down to accept a .30 caliber (7.62 mm) bullet. 
The .300 Winchester is extremely versatile and has been adopted by a wide range of users including hunters, target shooters, military units, and law enforcement departments. Hunters found the cartridge to be an effective all-around choice with bullet options ranging from the flatter shooting 165 grain to the harder hitting 200+ grain selections available from the factory. The .300 Win Mag remains the most popular .30 caliber magnum with American hunters, despite being surpassed in performance by the more powerful .300 and .30-378 Weatherby Magnums and the newer .300 Remington Ultra Magnum. It is a popular selection for hunting moose, elk and bighorn sheep as it can deliver better long range performance with better bullet weight than most other .30 caliber cartridges. Military and law enforcement departments adopted the cartridge for long range sniping and marksmanship. As a testament to its accuracy, since its introduction it has gone on to win several 1,000-yard (910 m) competitions.
Choice Ammunition has taken our 100% hand-loading techniques and produce an extremely accurate, highly dependable round for the .300 Winchester in this load. Our loading tolerances are only matched by passionate hand-loaders in their own loading rooms. Consistent seating depths, powder charges and proprietary formulas of Choice Ammunition, make 220 grain MatchKing HPBT round the best you can buy on the commercial market today. We produce this round for numerous long-range schools that use Choice Ammunition exclusively- as well as competitive shooters across the country.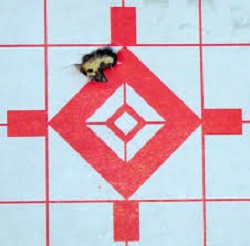 For serious rifle competition, you'll be in championship company with MatchKing® bullets. The hollow point boat tail design provides that extra margin of ballistic performance match shooters need to fire at long ranges under adverse conditions. Sierra MatchKing® Rifle Bullets are designed to excel over long ranges, where high-performance features really make a difference. Boattail design greatly reduces drag, resulting in higher retained velocity, greater striking energy, flatter trajectory, and less wind drift than comparable flat-base bullets.
Velocity: 2820 fps
100% Hand-Loaded