Description
.30-06 Springfield 180 Grain Swift A-Frame~ The .30-06 Springfield was introduced to in 1906. The ".30" refers to the caliber of the bullet. The "06" refers to the year the cartridge was adopted—1906. The .30-06 remained the U.S. Army's primary rifle and machine gun cartridge for nearly 50 years before being replaced by the 7.62x51mm NATO (commercial .308 Winchester). The .30-06's power and versatility have kept the round as one of the most popular for hunting big game.
Choice Ammunition has taken our 100% hand-loading techniques and produce an extremely accurate, highly dependable round for the .30-06 in this load. Our loading tolerances are only matched by passionate hand-loaders in their own loading rooms. Consistent seating depths, powder charges and proprietary formulas of Choice Ammunition, make this 180 grain Swift A-Frame round the best you can buy on the commercial market today.
The Bullet: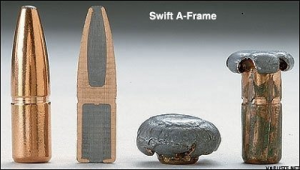 Swift A-Frame fans, here you go! For 28 years A-Frame rifle bullets have set the standard by which all bonded bullets are measured. With its controlled expansion of 2.2x and 95%+ weight retention A-Frame penetrates deep and mushrooms perfectly, making it the choice of hunters for use on any game, anywhere in the world. With our hand-loaded manufacturing process and tightest load tolerances in the industry, count on Choice Ammunition to provide the most accurate, reliable and consistent round available on the market today!
Velocity 2,830 fps
100% Hand Loaded