Description
.30-06 Springfield 168 Grain Berger VLD-Hunting~ The .30-06 Springfield was introduced to in 1906. The ".30" refers to the caliber of the bullet. The "06" refers to the year the cartridge was adopted—1906. The .30-06 remained the U.S. Army's primary rifle and machine gun cartridge for nearly 50 years before being replaced by the 7.62x51mm NATO (commercial .308 Winchester). The .30-06's power and versatility have kept the round as one of the most popular for hunting big game.
Choice Ammunition has taken our 100% hand-loading techniques and produce an extremely accurate, highly dependable round for the .30-06 in this load. Our loading tolerances are only matched by passionate hand-loaders in their own loading rooms. Consistent seating depths, powder charges and proprietary formulas of Choice Ammunition, make this 168 grain Berger VLD-H round the best you can buy on the commercial market today.
The Bullet-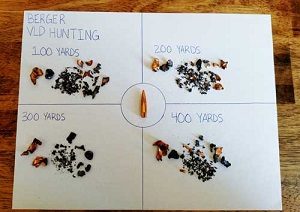 The Berger VLD design incorporates a sharp nose that allows the bullet to penetrate 2″ to 3″ before it starts to expand. After the initial expansion, the bullet will shed between 40% and 85% of its weight as shrapnel into the surrounding tissue (internal organs). The combination between the shrapnel and the hydrostatic shock produces a massive wound cavity within the vital area that will be 13″ – 15″ long. This massive wound cavity results in the animal dropping fast since most go into shock after such a tremendous blow. Those animals that don't go down immediately will soon succumb to blood pressure loss and/or organ failure producing a quick ethical kill.
100% Hand-Loaded
Velocity 2,862 fps