Description
30-06 Springfield 150 grain Barnes TSX~ The .30-06 Springfield was introduced to in 1906. The ".30" refers to the caliber of the bullet. The "06" refers to the year the cartridge was adopted—1906. The .30-06 remained the U.S. Army's primary rifle and machine gun cartridge for nearly 50 years before being replaced by the 7.62x51mm NATO (commercial .308 Winchester). The .30-06's power and versatility have kept the round as one of the most popular for hunting big game.
Choice Ammunition has taken our 100% hand-loading techniques and produce an extremely accurate, highly dependable round for the .30-06 in this load. Our loading tolerances are only matched by passionate hand-loaders in their own loading rooms. Consistent seating depths, powder charges and proprietary formulas of Choice Ammunition, make this 150 grain Barnes TSX round the best you can buy on the commercial market today.
The Bullet-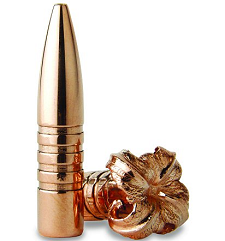 Since its introduction in 2003, Barnes' TSX Bullet has earned a reputation as "the perfect hunting bullet." This lead-free, 100% copper-constructed bullet provides extreme penetration every time. Typically, this premium hunting bullet retains 100% of its original weight even after smashing through dense tissue and heavy bone. The Triple – Shock bullet design incorporates a series of precisely positioned rings cut into the bullet's body. These grooves relieve firing pressure, allowing the TSX to be safely loaded to higher velocities while reducing copper fouling. The bonus is that this is one of the most accurate hunting bullets you can buy.
Velocity 2,960 fps
100% Hand Loaded