Description
22-250 Remington 50 TNT Hollow Point~ The .22-250 Remington is a very high-velocity (capable of reaching over 4000 feet per second), short action, .22 caliber rifle cartridge primarily used for varmint hunting and small game hunting, though it finds occasional use on deer. This cartridge is also sometimes known as the .22 Varminter or the .22 Wotkyns Original Swift Along with the .220 Swift, the .22-250 was one of the high-velocity .22 caliber cartridges that developed a reputation for remote wounding effects known as hydrostatic shock in the late 1930s and early 1940s. The .22-250 started life as a wildcat cartridge developed from the .250 Savage case necked down to take a .224 caliber bullet. In the early days of the cartridge there were several different versions that varied only slightly from one to the next, including one developed in 1937 by Grosvenor Wotkyns, J.E. Gebby and J.B. Smith who named their version the 22 Varminter.
Choice Ammunition has taken our 100% hand-loading techniques and produce an extremely accurate, highly dependable round for the 22-250 in this load. Our loading tolerances are only matched by passionate hand-loaders in their own loading rooms. Consistent seating depths, powder charges and proprietary formulas of Choice Ammunition, make this 50 grain TNT Hollow Point round the best you can buy on the commercial market today.
Bullet: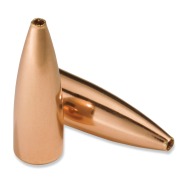 Speer TNT gives predator and varmint hunters what they want most—pinpoint long-range accuracy and maximum destruction on impact. Its thin precision jacket features internal fluting to ensure complete bullet disruption, while its high ballistic coefficient produces the flattest trajectories possible.
Thin precision jacket and internal fluting
Great long-range accuracy
High ballistic coefficients
Long ogive and small hollow point
Velocity 3,710 fps
100% Hand Loaded