Description
28 Nosler 175 Grain Lead Free Barnes TSX– The 28 Nosler is a 7mm (.284″) caliber, rebated-rim centerfire rifle cartridge designed by Nosler. Introduced in 2015 and approved by SAAMI on January 19, 2015. It is the second cartridge designed by Nosler. The name 28 Nosler refers to the first two digits in the caliber (0.284″) of the bullets that the cartridge fires and the name of the company which created it. The .28 Nosler is essentially a shortened version of the 7mm Remington Ultra Magnum.
The 28 Nosler is based on the 26 Nosler which was released in 2014. The 28 Nosler shares the same overall cartridge length (3.340″) as the 26 Nosler which allows it to be chambered in standard-length action. This feature helps weight-conscious sportsmen to lighten their load before venturing into the backcountry. The cases' overall length also aid in quick follow-up shots, since the bolt throw is shorter than on a magnum action. All four of Nosler's Cartridges the 26 Nosler, 28 Nosler, .30 Nosler, and the .33 Nosler are based on the same .404 Jeffery parent case. While the 26 and 28 Nosler share the same cartridge case dimensions, the 30 Nosler has a slightly shorter length to the shoulder dimension than the 26 and 28 and the 33 Nosler has a shorter shoulder dimension yet than that of the 30 Nosler. 
Choice Ammunition has taken our 100% hand-loading techniques and produce an extremely accurate, highly dependable round for the 28 Nosler in this load. Our loading tolerances are only matched by passionate hand-loaders in their own loading rooms. Consistent seating depths, powder charges and proprietary formulas of Choice Ammunition, make this 175 grain Barnes TSX round the best you can buy on the commercial market today.
The Bullet: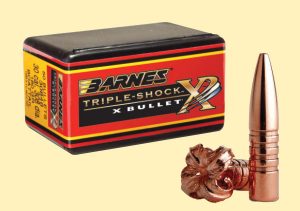 Since its introduction in 2003, Barnes' TSX Bullet has earned a reputation as "the perfect hunting bullet." This lead-free, 100% copper-constructed bullet provides extreme penetration every time. Typically, this premium hunting bullet retains 100% of its original weight even after smashing through dense tissue and heavy bone. The Triple – Shock bullet design incorporates a series of precisely positioned rings cut into the bullet's body. These grooves relieve firing pressure, allowing the TSX to be safely loaded to higher velocities while reducing copper fouling. The bonus is that this is one of the most accurate hunting bullets you can buy.
Velocity 3,012 fps
100% Hand Loaded