Description
.257 Weatherby Magnum 100 Grain Swift Scirocco~ The .257 Weatherby Magnum is a .257 Caliber (6.35 mm) belted bottlenecked cartridge. It is one of the original standard length magnums developed by shortening the .375 H&H Magnum case to approx. 2.5 in (64 mm). Of the cartridges developed by Roy Weatherby in 1944, the .257 Weatherby Magnum was known to have been his favorite, and the cartridge currently ranks third in Weatherby cartridge sales, after the .30-378 Weatherby Magnum and the .300 Weatherby Magnum.
The .257 Weatherby Magnum is among one of the flattest shooting commercial cartridges. The .257 Weatherby Magnum shares the same cartridge case as the .270 Weatherby Magnum and the 7mm Weatherby Magnum. The .30 Super Belted Rimless H&H manufactured by Winchester served as the direct parent cartridge for the case design. The .257 Weatherby Magnum was one of the first cartridges which used the shortened, blown out and necked down .375 H&H Magnum case and served as the forerunner to the standard length magnum cartridges such as the 7mm Remington Magnum and the .338 Winchester Magnum. There has been some speculation that Roy Weatherby may have used the full length .375 H&H Magnum case if he had slow burning powders available today when the cartridge was designed.
Choice Ammunition loads the .257 Weatherby Magnum with the same 100% hand-loading techniques as our other calibers. Our loading techniques and extremely tight tolerances are only matched by passionate hand-loaders in their own loading rooms. Our consistencies box to box and lot to lot, are created by continuous testing at the range- adjusting varied powder and brass lot formulas to match exact velocities and points of impact as the last time we loaded this caliber. Exact seating depths and our proprietary load formulas produce a round of ammunition you can count on for accuracy and dependability each and every time- and at that critical moment in the field when it all comes down to the shot!
The Bullet: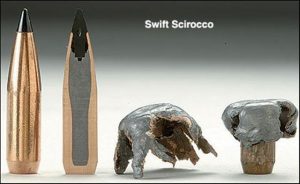 The Swift Scirocco bonded is the perfect bullet design for today's fast, flat-shooting long range cartridges. Its secant ogive, 15 degree boat tail base and polymer tip create a sleek, aerodynamic profile that helps maintain down-range velocities and flat trajectories. The extra heavy tapering jacket wall with an internally bonded lead core provides structural integrity, reliable expansion and penetration with over 70% weight retention.
Velocity 3,448 fps
100% Hand Loaded