Description
.257 Weatherby Magnum 101 Grain Barnes LRX~ The .257 Weatherby Magnum is a .257 Caliber (6.35 mm) belted bottlenecked cartridge. It is one of the original standard length magnums developed by shortening the .375 H&H Magnum case to approx. 2.5 in (64 mm). Of the cartridges developed by Roy Weatherby in 1944, the .257 Weatherby Magnum was known to have been his favorite, and the cartridge currently ranks third in Weatherby cartridge sales, after the .30-378 Weatherby Magnum and the .300 Weatherby Magnum.
The .257 Weatherby Magnum is among one of the flattest shooting commercial cartridges. The .257 Weatherby Magnum shares the same cartridge case as the .270 Weatherby Magnum and the 7mm Weatherby Magnum. The .30 Super Belted Rimless H&H manufactured by Winchester served as the direct parent cartridge for the case design. The .257 Weatherby Magnum was one of the first cartridges which used the shortened, blown out and necked down .375 H&H Magnum case and served as the forerunner to the standard length magnum cartridges such as the 7mm Remington Magnum and the .338 Winchester Magnum. There has been some speculation that Roy Weatherby may have used the full length .375 H&H Magnum case if he had slow burning powders available today when the cartridge was designed.
Our 100% Hand-Loaded LEAD FREE 101 grain Barnes LRX rounds are loaded with extremely tight tolerances, producing highly accurate, consistent and reliable performance with each and every shot! Our proprietary load formulas and loading process create the finest round of ammunition available on the commercial market today we feel. If you don't load your own ammunition- let us do it for you!
The Bullet-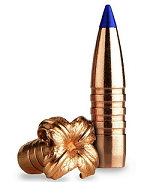 The Long-Range X Bullet (LRX) line is designed after the best-selling Tipped Triple-Shock X Bullet, the LRX bullet design increases Ballistic Coefficient values by increasing ogive and boat tail lengths to improve the bullets' long-range ballistic performance. For the hunter who is confident in long-range hunting, the LRX will fill the niche of this new hunting craze. LRX bullets will continue to be manufactured with the proven 100-percent copper, lead-free bodies. The bullet's polymer tip initiates expansion, causing the nose cavity to open instantly on contact doubling the bullet's original diameter while creating four cutting petals that wreak extensive internal damage. Exceptional performance means clean, quick kill.
Velocity 3,484 fps
100% Hand-Loaded