Description
.45 Colt 325 Grain +P Wide Flat Nose (WFN) Gas Check- ** Our hand-loaded cartridges put this round in the same class as the .44 Magnum. These loads cannot be used in any original Colt Single Action Army or replica thereof, such as those produced by Uberti, Beretta, the Taurus Gaucho, or the Ruger New Vaquero, as these guns are built on the smaller frame with thinner cylinder walls. These loads should be used only in modern large-frame revolvers such as the Ruger Blackhawk, Redhawk, Ruger's original Vaquero (sometimes erroneously referred to as the "Old Model" which would differentiate it from the "New Model", a completely different kind of design change).
.45 Colt loadings can also be safely fired from any gun chambered in either the .454 Casull and .460 S&W Magnum cartridges, though proper feeding may be an issue in repeating rifles chambered for either the .454 or .460 as the OAL is significantly shorter. Modern rifles with strong actions (such as the Winchester Model 1894, Marlin Model 1894, and new clones of the Winchester Model 1892) chambered for the cartridge can safely handle the heavier loadings.
The .45 Colt cartridge, which is sometimes called .45 Long Colt, .45 LC, is a handgun cartridge dating to 1872. It was originally a black-powder revolver round developed for the Colt Single Action Army revolver. This cartridge was adopted by the U.S. Army in 1873 and served as an official US military handgun cartridge for 14 years. While it is sometimes referred to as .45 Long Colt or .45 LC, to differentiate it from the very popular and ubiquitous .45 ACP, and historically, the shorter .45 S&W Schofield, it was only an unofficial designation by Army quartermasters. Current catalog listings of compatible handguns list the caliber as .45 LC and .45 Colt.
The .45 Colt became the basis for the much more powerful .454 Casull cartridge, with the .454 Casull having a slightly longer case utilizing a small rifle primer in place of the large pistol primer. Any .454 Casull revolver will chamber and fire .45 Colt and .45 Schofield, but not the inverse due to the Casull's longer case. The .460 S&W Magnum is a longer version of the .454 Casull and the .45 Colt. Likewise, .460 Magnum revolvers can chamber and fire the three lesser cartridges, but again, not the reverse.
The Bullet-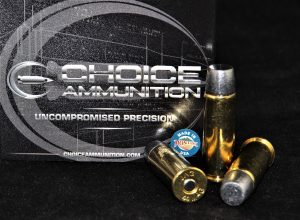 Our Hard Cast Lead bullet for the .45 Colt +P Bear Defense load is a gas check 325 grain Wide Flat Nose (WFN). This cast bullet is perfectly suited for hard hitting and massive terminal penetration and stopping power. Choice Ammunition, and our 100% Hand-Loading techniques- produce a round of ammunition for the .45 Colt in a +P round**(see first paragraph) that is demanded in dangerous game and defense applications.
Accuracy, consistency and dependability are crucial at that final moments of such an endeavor. Choice Ammunition takes this responsibility seriously by meticulously weighing each powder charge with our proprietary formulas and temperature insensitive powders, seating the bullet at the exact length for optimal performance and test firing each and every lot of ammunition at an average of 500% over industry average. We have no high speed production machines- only passionate and dedicated load technicians pulling each and every handle, producing one round of ammunition at a time. 
Velocity: 1,200 fps
100% Hand-Loaded
Energy: 1,039 Ft. Lbs.