Description
.38 Special 158 Grain Black Hi-Tek Coated RNFP- The .38 Smith & Wesson Special  is a rimmed, centerfire cartridge designed by Smith & Wesson. It is most commonly used in revolvers, although some semi-automatic pistols and carbines also use this round. The .38 Special was the standard service cartridge of most police departments in the United States from the 1920s to the 1990s, and was also a common sidearm cartridge used by soldiers in World War I. Known for its accuracy and manageable recoil, the .38 Special remains one of the most popular revolver cartridges in the world more than a century after its introduction. It is used for target shooting, formal target competition, personal defense, and for hunting small game.
The .38 Special was introduced in 1898 as an improvement over the .38 Long Colt which, as a military service cartridge, was found to have inadequate stopping power against the charges of Filipino Muslim warriors during the Philippine–American War. Upon its introduction, the .38 Special was originally loaded with black powder, but the cartridge's popularity caused manufacturers to offer smokeless powder loadings within a year of its introduction.
Despite its name, the caliber of the .38 Special cartridge is actually .357 inches (36 caliber/9.07 mm), with the ".38" referring to the approximate diameter of the loaded brass case. Except for case length, the .38 Special is identical to the .38 Short Colt, .38 Long Colt, and .357 Magnum. This allows the .38 Special round to be safely fired in revolvers chambered for the .357 Magnum, and the .38 Long Colt in revolvers chambered for .38 Special, increasing the versatility of this cartridge. However, the longer and more powerful .357 Magnum cartridge will usually not chamber and fire in weapons rated specifically for .38 Special which are not designed for the greatly increased pressure of the magnum rounds.
Although only a few US police departments now issue or authorize use of the .38 Special revolver as a standard duty weapon, the caliber remains popular with some police officers for use in short-barreled revolvers carried when off-duty or for undercover police investigations. It is also widely used in revolvers purchased for civilian home defense or for concealed carry by individuals with a CCW permit.
With our 100% hand-loading techniques- We place the same care and passion into each and every round produced as those do in their own private loading rooms. These techniques produce the most reliable, accurate round of ammunition available on the market today! 
The Bullet: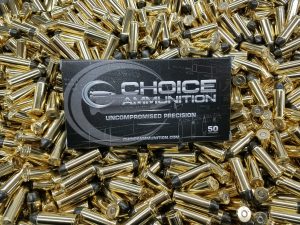 We use a unique heat-set "HI-TEK Supercoat" manufactured in Australia, where it has been used for more than 20 years. The Hi-Tek Supercoat Bullet Coating totally encapsulates the lead projectiles. Hi-Tek Supercoat bullets are safe to shoot indoors.  The coating gives off no toxic out-gassing or particulate matter when fired. The coating is absolutely nonabrasive and contains no PTFE or MOLY. There is no wax lube and it minimizes your exposure to lead. The end result is cleaner air, cleaner hands, cleaner equipment and cleaner guns!
Check out a video of the Hi-Tek coating process here and see why you might want us to do it for you!!
Our bullets greatly reduce the amount of smoke normally associated with cast bullets
Lead fouling of the bore is drastically reduced or in most cases, eliminated completely
Our coating gives off no toxins or particulate matter when fired
Is 100% non abrasive and contains no PTFE or MOLY
They are completely safe to use in Glock's polygonal rifled barrels
Greatly minimizes your exposure to lead
Velocity: 825 fps.
100% Hand-Loaded!!