Description
.44 Remington Magnum "Choice Bear Defense" 305 Grain WFN w/Gas Check- The .44 Remington Magnum, or simply.44 Magnum (10.9×33mmR), and frequently .44 Mag, is a rimmed, large-bore cartridge originally designed for revolvers. After its introduction, it was quickly adopted for carbines and rifles. Despite the ".44" designation, guns chambered for the .44 Magnum round, and its parent, the .44 Special, use 0.429 in (10.9 mm) diameter bullets.
The .44 Magnum is based on a lengthened .44 Special case, loaded to higher pressures for greater velocity (and thus, energy). The .44 Magnum has since been eclipsed in power by the .454 Casull, and most recently by the .460 S&W Magnum and .500 S&W Magnum, among others; nevertheless, it has remained one of the most popular commercial large-bore magnum cartridges. When loaded to its maximum and with heavy, deeply penetrating bullets, the .44 Magnum cartridge is suitable for short-range hunting of all North American game—though at the cost of heavy recoil and muzzle flash when fired in handguns, less so in carbines and rifles.
Elmer Keith, one of the most famous and popular firearms related authors at the time, developed a number of classical heavy handloads for the .44 Special; many are still highly regarded today. He also championed the concept of higher powered big-bore revolvers with Smith & Wesson and Remington Arms, eventually leading to the development of the .357, .41, and .44 Magnums. Keith's suggested designation for the proposed .44 caliber round was the ".44 Special Magnum," but when Remington Arms developed the cartridge they chose to name it the .44 Remington Magnum. Nonetheless, the new cartridge was developed directly from the .44 Special design by simply lengthening the older case by .125 inch.
We feel our 100% hand-loading techniques and proprietary formulas produce the most reliable, consistent and accurate round on the commercial market today. Choice Ammunition emulates the same process passionate loaders do in their own loading rooms across the country. Hand-Loaded ammunition simply performs better than "factory" ammunition for a number of reasons. Why compromise with this Choice Bear Defense Load when a premium product such as this is available competitively priced? Please try Choice Ammunition! This 305 grain "HARD" (22 BHN) WFN with gas check cast lead bullet is designed for deep penetration and bone-crushing stopping power for the most critical of times.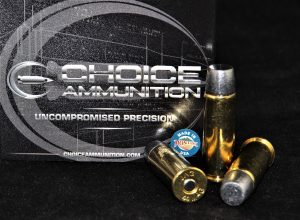 The Bullet:
Our hard cast (22 BHN) Wide Nose Flat Point bullet  is specifically designed for Bear Defense situations. Transferring maximum energy and with deep penetration and bone crushing stopping power.
Velocity: 1,330 fps 
Energy: 1,198 ft. pounds
100% Hand-Loaded