Description
.416 Remington Magnum 400 Grain Barnes TSX Triple Shock– The .416 Remington Magnum is a .416 caliber of a belted bottle-necked design. The cartridge was intended as a dangerous game hunting cartridge and released to the public in 1989. The cartridge uses the case of the 8 mm Remington Magnum as a parent cartridge. When the cartridge was released in 1988, author Frank C. Barnes considered the .416 Remington Magnum to be the "most outstanding factory cartridge introduced in decades".
The cartridge was conceived as a less costly alternative to the .416 Rigby cartridge and was intended to replace the latter. While today the .416 Remington Magnum is considered in the field the most popular of the .416 cartridges, the .416 Remington did not replace the .416 Rigby as had been anticipated. Rather, it sparked a renewed interest in the .416 caliber (10.36 mm) cartridges which led to the revival of the .416 Rigby and the introduction of other .416 cartridges such as the .416 Weatherby Magnum and the .416 Ruger.
The .416 Remington Magnum is one of the more popular dangerous game cartridges used for the hunting of dangerous game in Africa. It also has been increasingly used in North America, in Alaska in particular for the hunting of  bears.
Choice Ammunition meticulously hand-loads 100% of our ammunition to insure superior performance, accuracy and reliability. These 400 grain Barnes TSX rounds for the .416 Remington are ideal for most dangerous game and large bodied animals. Don't compromise with "Factory" ammunition when it really counts! Choice Ammunition utilizes only the finest components and proprietary loading formulas meticulously assembled with temperature insensitive powders. This insures wherever your travels may take you- you can depend on our premium ammunition to close out your hunt.
The Bullet-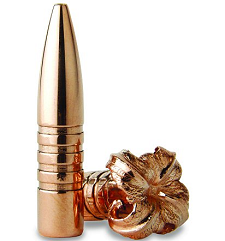 The Triple-Shock X Bullets (TSX) are made of 100% copper and contain no lead. When the bullet expands, four razor-sharp cutting petals are created, allowing the bullet to penetrate farther through tough bone and tissue. These bullets usually retain 100% of their original weight, making them a superb choice for hunting. This ammunition is new production, non-corrosive, in boxer-primed, reloadable brass cases.
Velocity: 2,340 fps
100% Hand-Loaded