Description
.416 Remington Magnum 400 Grain Dangerous Game Combo 20/20 Game Pack!  The .416 Remington Magnum is a .416 caliber (10.6 mm) of a belted bottle-necked design. The cartridge was intended as a dangerous game hunting cartridge and released to the public in 1989. The cartridge uses the case of the 8 mm Remington Magnum as a parent cartridge. When the cartridge was released in 1988, author Frank C. Barnes considered the .416 Remington Magnum to be the "most outstanding factory cartridge introduced in decades".
The cartridge was conceived as a less costly alternative to the .416 Rigby cartridge and was intended to replace the latter. While today the .416 Remington Magnum is considered in the field the most popular of the .416 cartridges, the .416 Remington did not replace the .416 Rigby as had been anticipated. Rather, it sparked a renewed interest in the .416 caliber (10.36 mm) cartridges which led to the revival of the .416 Rigby and the introduction of other .416 cartridges such as the .416 Weatherby Magnum and the .416 Ruger.
The .416 Remington Magnum is one of the more popular dangerous game cartridges used for the hunting of dangerous game in Africa. It also has been increasingly used in North America, in Alaska in particular for the hunting of  bears.
Choice Ammunition meticulously hand-loads 100% of our ammunition to insure superior performance, accuracy and reliability. These 400 grain Swift A-Frame and Break-Away Solid bullets for the 416 Remington are ideal for dangerous game and large bodied animals. Don't compromise with "Factory" ammunition when it really counts! Choice Ammunition utilizes only the finest components and proprietary loading formulas meticulously assembled with temperature insensitive powders. This insures wherever your travels may take you- you can depend on our premium ammunition to close out your hunt.
We have matched identical performance and point of impact both the Swift Break-Away Solid ad the Swift A-Frame! Shoot with confidence no matter the conditions on your dangerous game hunt. Designed for large, dangerous game, such as the "Big Five" (elephant, rhino, cape buffalo, lion and leopard) this Combo Pack offers great performance while offering manageable recoil.
The Bullets-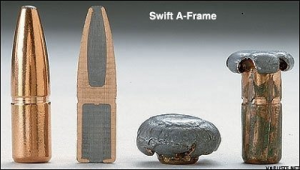 Swift A-Frame- For 28 years the Swift A-Frame rifle bullets have set the standard by which all bonded bullets are measured. With its controlled expansion of 2.2x and 95%+ weight retention A-Frame penetrates deep and mushrooms perfectly, making it the choice of hunters for use on any game, anywhere in the world.
Swift Breakaway Solid- The Break-Away Solid has hunted the most dangerous African game, including numerous elephant and buffalo, with outstanding results. It has been extensively field tested, with many hunters and PH's throughout Africa.
Velocity 2490/2380 fps with SAME POINT OF IMPACT ON TARGET
100% Hand Loaded