Description
.338 Lapua Magnum 300 grain Berger Elite Hunter~ The .338 Lapua Magnum is a rimless, bottlenecked, centerfire rifle cartridge. It was developed during the 1980s as a high-powered, long-range cartridge for military snipers. It was used in the Afghanistan war and the Iraq war. As a result of this, it became more widely available. It can penetrate better-than-standard military body armour at ranges up to 1,000 metres (1,090 yd) and has a maximum effective range of about 1,750 metres.
Not only is it a combat proven round, it is increasingly used by big game hunters and civilian long range shooting enthusiasts.
Choice Ammunition has taken our 100% hand-loading techniques and produce an extremely accurate, highly dependable round for the 338 Lapua in this load. Our loading tolerances are only matched by passionate hand-loaders in their own loading rooms. Consistent seating depths, powder charges and proprietary formulas of Choice Ammunition, make this 300 grain Berger Elite Hunter round the best you can buy on the commercial market today.
The Bullet-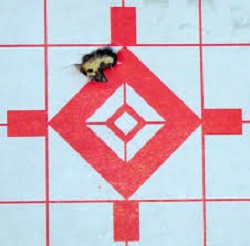 Like the Classic Hunters, these Elite Hunter bullets combine the best of both tangent and secant ogive features, resulting in high ballistic performance with less sensitivity to seating depth. The Elite Hunter bullets are not limited to SAAMI standards, so they have much longer noses than the Classic Hunter bullets to provide hunters with the highest ballistic performance possible.
Velocity: 2,738 fps
100% Hand-Loaded