Description
.338 Lapua Magnum 270 Grain Hornady ELD-X~ The .338 Lapua Magnum (8.6×70mm or 8.58×70mm) is a rimless, bottlenecked, centerfire rifle cartridge. It was developed during the 1980s as a high-powered, long-range cartridge for military snipers. It was used in the Afghanistan wart and the Iraq war. As a result of this, it became more widely available. The loaded cartridge is 14.93 mm (0.588 in) in diameter (rim) and 93.5 mm (3.68 in) long. It can penetrate better-than-standard military  body armour at ranges up to 1,000 metres (1,090 yd) and has a maximum effective range of about 1,750 metres
Not only is it a combat proven round, it is increasingly used by big game hunters and civilian long range shooting enthusiasts.
Choice Ammunition has taken our 100% hand-loading techniques and produce an extremely accurate, highly dependable round for the 338 Lapua in this load. Our loading tolerances are only matched by passionate hand-loaders in their own loading rooms. Consistent seating depths, powder charges and proprietary formulas of Choice Ammunition, make this 270 Hornady ELD-X round the best you can buy on the commercial market today.
The Bullet-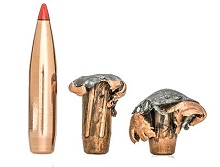 The Heat Shield tip of the Hornady ELD-X bullet defies the effects of aerodynamic heating and retains its shape to provide a perfect meplat (tip) that is always the same shape. A streamlined secant ogive with optimum boattail design, plus the highly concentric AMP bullet jackets, combined with the patent pending Heat Shield tip creates a supremely accurate, high BC match bullet. ELD-Match bullet BCs are measured with Doppler radar and corrected to standard atmospheric conditions. With high velocity, 0-400 yard impact, the bullet continually expands throughout its penetration path. The thick shank of the jacket and high Interlock ring keep the core and jacket together providing 50-60% weight retention. Upon low velocity, 400+ yard impacts, the Heat Shield tip drives backward into the bullet to initiate expansion. Exhibiting conventional expansion with a large mushroom and 85-90% retained weight the bullet provides deep penetration and large wound cavities.
Velocity 3,070 fps
100% Hand Loaded