Description
.270 Weatherby Magnum 130 Grain Barnes Tipped Triple Shock (TTSX Lead Free)– The .270 Weatherby Magnum was the first belted magnum based on the .300 H&H Magnum to be developed by Roy Weatherby in 1943. The cartridge is short enough to function in standard-length long actions with a brass length of 2.549″ or 64.74mm and an overall length of about 3.295″.  It has the characteristic double-radius shoulders and is necked down to accommodate the .277 in bullets. Like most Weatherby cartridges, the .270 Weatherby was standardized by the Small Arms and Ammunitions Manufacturers Institute in 1994, and it has a SAAMI maximum pressure limit of 62,500 psi. The first Weatherby cartridge to be used in Africa was the .270 Weatherby on a jackal on June 8, 1948.
Given its higher pressure and larger case which holds more powder than the .270 Winchester, the .270 Weatherby has about 200 ft/s faster performance with any particular bullet weight. This performance comes at the cost of more recoil and barrel heat. In addition, a long barrel is necessary to take advantage of extra powder to gain maximum velocity. The .270 Weatherby is absolutely ideal for light to medium weight game. On larger animals such as Elk, bullet choice has a huge effect on results.
Choice Ammunition has taken our 100% hand-loading techniques and produce an extremely accurate, highly dependable round for the .270 Weatherby Magnum in this load. Our loading tolerances are only matched by passionate hand-loaders in their own loading rooms. Consistent seating depths, powder charges and proprietary formulas of Choice Ammunition, make this 130 grain Barnes TTSX Lead-free round the best you can buy on the commercial market today.
The Bullet-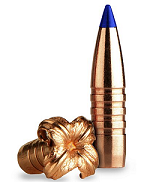 100-PERCENT COPPER BODY
Since its introduction in 2003, Barnes' TSX Bullet has earned a reputation as "the perfect hunting bullet." Now, Barnes has improved on perfection by adding a streamlined polymer tip. The new Tipped TSX features the same 100-percent copper body with multiple rings cut into the shank. It delivers the same gnat's-eyelash accuracy and "dead right there" performance—but with an added polymer tip that boosts BC and improves long-range ballistics. The tip and a re-engineered nose cavity provide even faster expansion. Complete penetration, virtually 100-percent weight retention and four razor-sharp cutting petals that double bullet diameter means the new Tipped TSX creates more internal damage than any competing bullet. Instant expansion and perfect penetration ensures cleaner, quicker kills.
Velocity 3,259 fps
100% Hand Loaded