Description
27 Nosler 150 Nosler AccuBond-
How The 27 Nosler Outdoes Other .270s:
Based on the .404 Jeffery, its case has exceptional capacity.
It delivers greater velocity than even the gargantuan .270 Weatherby.
It's extremely flat shooting and drops an incredible amount of energy on target.
Nosler has built quite a cartridge family, and it continues to grow. The newest addition announced at the 2020 SHOT Show is the 27 Nosler, which, as you might have guessed, is a .270 caliber. But like everything Nosler puts out, it's a .270 caliber taken to the limits.
With the .404 Jeffery providing the parent case, the 27 Nosler outdoes the capacity of the iconic .270 Winchester by 42 percent, the .270 WSM by 25 percent and the .270 Weatherby by 12.5 percent. Given none of the existing cartridges—especially the latter two—are slouches in the velocity department, you can imagine what the extra powder does for the 27 Nosler's performance. Sends it through the roof. Nosler's stated goal in the 27 Nosler is to produce a more capable long-range hunting cartridge. Given the same 150-grain AccuBond bullet only drops 28-inches at 500 yards, it's safe to say they might have done so with an extraordinary flat-shooting option. At the same tick, it also is a larger-diameter bullet than some of the more popular modern options—say the 6.5 Creedmoor. This means a bigger wound channel, as well as more energy on target. Again, at 500 yards and with a 150 AccuBond, it delivers 2,129 ft-lbs of energy, which is more than enough to wallop an elk—if you're confident you can put it on the vitals.
Choice Ammunition has taken our 100% hand-loading techniques and produce an extremely accurate, highly dependable round for the 27 Nosler. Our loading tolerances are only matched by passionate hand-loaders in their own loading rooms. Consistent seating depths, powder charges and proprietary formulas of Choice Ammunition, make this 150 grain Nosler AccuBond round the best you can buy on the commercial market today. 
The Bullet–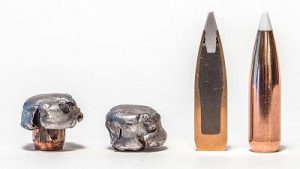 Through an exclusive bonding process that eliminates voids in the bullet core, AccuBond couples Nosler's proven copper-alloy jacket with its special lead-alloy core. The result is a bullet that flies true, penetrates deep and retains its weight, without causing extensive barrel fouling. The unique white polymer tip resists deforming and initiates expansion on impact. Nosler's Solid Base at the rear of the bullet acts as a platform for large diameter mushrooms.
Velocity 3,125 fps
100% Hand Loaded