Description
.458 Lott 450 Grain Barnes TSX- The .458 Lott is a .458 caliber belted hunting cartridge designed as a replacement for the less powerful .458 Winchester Magnum. It is based on the full length .375 H&H Magnum blown out and shortened to 2.800 inches. The cartridge is designed for the purpose of hunting African dangerous game.
The .458 Lott was designed in response to perceived inadequacies and problems encountered with the .458 Winchester Magnum. The cartridge provides a distinct step up in performance over the .458 Winchester Magnum. Jack Lott, a big-game hunter and writer, had an adverse encounter in Mozambique in 1959 with an African Cape buffalo in which he sustained injuries. He had been hunting with the then new .458 Winchester Magnum. This experience convinced him that a more powerful cartridge than the .458 Winchester Magnum was required when hunting dangerous game. After the encounter, he began a search for a big-bore cartridge which would suit his needs perfectly. The objective behind the design of the .458 Lott was to provide a greater case capacity over the .458 Winchester Magnum, so as to provide better performance and less compression of the powder charge. The .458 Lott achieved both these objectives by its lengthened cartridge. Furthermore, as the Lott cartridge is in essence a lengthened .458 Winchester Magnum, converting a .458 Winchester Magnum to .458 Lott involves in many cases a simple re-boring of the chamber and if required, a lengthening of the magazine.
The .458 Lott was designed to be an African dangerous game rifle cartridge particularly for use against heavy, thick skinned dangerous game such as elephant, Cape buffalo and rhinoceros. It is considered an ideal cartridge for hunting African dangerous game and is capable of taking game from elephant to the duiker. Acceptable bullet weights for the .458 Lott range from 300-to-600-grain. The range of available bullets provides the flexibility to customize loads for specific game species.
Choice Ammunition, and our 100% Hand-Loading techniques- produce a round of ammunition for the .458 Lott that is demanded in dangerous game hunting. Accuracy, consistency and dependability are crucial at that final moments of such an encounter. Choice Ammunition takes this responsibility seriously by meticulously weighing each powder charge with our proprietary formulas and temperature insensitive powders, seating the bullet at the exact length for optimal performance and test firing each and every lot of ammunition at an average of 500% over industry average. We have no high speed production machines- only passionate and dedicated load technicians pulling each and every handle, producing one round of ammunition at a time. Don't compromise with "Factory" ammunition when it really counts!
The Bullet: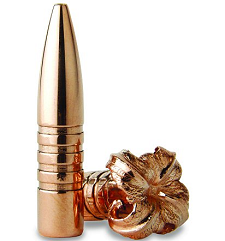 The Triple-Shock X Bullets (TSX) are made of 100% copper and contain no lead. When the bullet expands, four razor-sharp cutting petals are created, allowing the bullet to penetrate farther through tough bone and tissue. These bullets usually retain 100% of their original weight, making them a superb choice for hunting. This ammunition is new production, non-corrosive, in boxer-primed, reloadable brass cases.
Velocity: 2,330 fps
100% Hand-Loaded