Description
.375 Ruger 270 grain Barnes TSX (Lead Free)- The .375 Ruger is a rimless, standard-length rifle cartridge designed for the hunting of large dangerous game. It is designed to provide an increase in performance over the .375 H&H cartridge, yet to be chambered in a standard length action rifle. The .375 Ruger uses a unique case designed by Hornady and Ruger and was released commercially in 2007. The case is of a rimless design having the base and rim diameter of .532 in (13.5 mm) which is the same diameter of the belt on belted magnum cases based on the .300 H&H Magnum and .375 H&H Magnum. This allows the cartridge to have a greater case capacity than a belted magnum case given cases of equal length. As Ruger intended the cartridge to be chambered in standard length bolt-action rifles the case length was kept to 2.580 inch, which is only .04 in longer than the .270 Winchester case.
The maximum overall length of the cartridge is 3.340 in (84.8 mm) which is similar to the maximum overall length to standard length cartridges such as the .338 Winchester Magnum or the .30-06 Springfield. Unlike Remington Ultra Magnum cartridges, the Ruger Magnums can be chambered in standard length bolt-action rifles. This allowed Ruger to chamber the cartridge without extensively redesigning their M77 rifle to adopt them to the new Ruger cartridge.
While the .375 H&H Magnum is longer than the .375 Ruger, the latter cartridge has a greater case capacity than the Holland & Holland cartridge. This is due to the .375 H&H Magnum having a long tapered body while the .375 Ruger follows modern cartridge designs in that it has very little taper and a sharper shoulder. The case capacity of the .375 Ruger is 99.0 gr. of water (6.43 cm3) while the .375 H&H Magnum has a case capacity of 95.3 gr. of water (6.19 cm3), an increase of 4%. The .375 Ruger's slightly greater case capacity, and the "short fat" cartridge efficiency lead to increases in the neighborhood of 150 fps over the H&H cartridge.
Like the .375 H&H, the .375 Ruger is an incredibly versatile cartridge. Our loads will produce well in excess of 4,500 foot pounds of energy, the cartridge meets the legal requirements to hunt members of the African Big 5 and other species of dangerous game in virtually every country in the world. It is absolutely deadly on a wide range of animals varying in size from whitetail deer all the way up to elephant. The heavier  300gr loads are particularly versatile and are well suited both for larger game like water buffalo, cape buffalo, brown bear, grizzly bear, moose, and eland as well as small/medium sized game like impala, wildebeest, deer, feral hogs, and black bear.
Choice Ammunition, and our 100% Hand-Loading techniques- produce a round of ammunition for the .375 Ruger that is demanded in dangerous game hunting. Accuracy, consistency and dependability are crucial at that final moments of such an encounter. Choice Ammunition takes this responsibility seriously by meticulously weighing each powder charge with our proprietary formulas and temperature insensitive powders, seating the bullet at the exact length for optimal performance and test firing each and every lot of ammunition at an average of 500% over industry average. We have no high speed production machines- only passionate and dedicated load technicians pulling each and every handle, producing one round of ammunition at a time. 
The Bullet-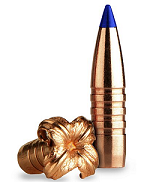 100-PERCENT COPPER BODY
Since its introduction in 2003, Barnes' TSX Bullet has earned a reputation as "the perfect hunting bullet." Now, Barnes has improved on perfection by adding a streamlined polymer tip. It delivers the same gnat's-eyelash accuracy and "dead right there" performance— Complete penetration, virtually 100-percent weight retention and four razor-sharp cutting petals that double bullet diameter means the TSX creates more internal damage than any competing bullet. Instant expansion and perfect penetration ensures cleaner, quicker kills.
Velocity 2,738 fps
100% Hand Loaded