Description
.375 Remington Ultra Mag 300 Grain Nosler AccuBond-The .375 Remington Ultra Magnum, also known as the .375 RUM is a .375 rifle cartridge introduced by Remington Arms in 2000. The cartridge is intended for large and dangerous game.
It is a beltless, rebated rim cartridge created by necking up the .300 Remington Ultra Magnum case to .375 caliber with no other changes. Factory loadings are less powerful than handloads for the cartridge. Remington factory loads push a 300 grain bullet at 2760 ft/s producing 5070 ft·lbf of energy.
During 1999 Remington Arms introduced their .300 Remington Ultra Magnum, an extremely powerful cartridge based loosely on the .404 Jeffery cartridge case design blown out to maximum dimensions. In the same year Remington announced that they intended to introduce both a .338 RUM and 7mm RUM, both arrived on the market in 2000. Following this, Remington made another statement in the year 2000 of their intention to introduce a .375 caliber RUM. The .375 RUM was released in 2001 and is the largest of the Remington Ultra Magnum cartridges.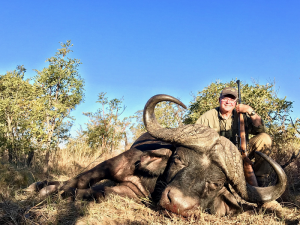 The case design of the .375 RUM is the same as its 7mm and .30 caliber counterparts. These three cartridges differ from the .338 RUM in that the .338 has a slightly shorter case for the sake of a comfortable cartridge overall length (COAL) within the limits of the Remington M700 rifle magazine.
Choice Ammunition has taken our 100% hand-loading techniques and produce an extremely accurate, highly dependable round for the .375 Remington Ultra Mag in this load. Our loading tolerances are only matched by passionate hand-loaders in their own loading rooms. Consistent seating depths, powder charges and proprietary formulas of Choice Ammunition, make this 300 Grain Nosler AccuBond round the best you can buy on the commercial market today.
The Bullet: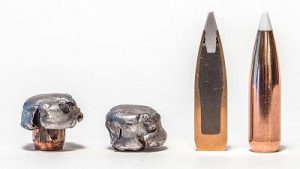 Through an exclusive bonding process that eliminates voids in the bullet core, AccuBond couples Nosler's proven copper-alloy jacket with its special lead-alloy core. The result is a bullet that flies true, penetrates deep and retains its weight, without causing extensive barrel fouling. The unique white polymer tip resists deforming and initiates expansion on impact. Nosler's Solid Base at the rear of the bullet acts as a platform for large diameter mushrooms.
Velocity: 2,832 fps
100% Hand Loaded