Description
.35 Whelen 200 Grain Nosler AccuBond~ The .35 Whelen is a powerful medium-bore rifle cartridge that does not require a magnum action or a magnum bolt-face. The parent of this cartridge is the .30-06 Springfield, which is necked-up to accept a bullet diameter of .358 in (9.1 mm). This cartridge is more powerful than its parent, especially in killing power on large game. The cartridge was designed in the early 1920s at a time when the only way to get a .375 Magnum was to have one built up on the long expensive Magnum Mauser action. The great advantage of the .35 Whelen was that this was a cartridge that could handle heavy bullets and yet could be used on short actions like 98 Mauser and the Springfield. Because .30/06 cases are cheap and plentiful and because good bullets in 35 caliber are available, the 35 Whelen still retains considerable popularity. However, there are probably fewer .35 Whelens in use today than there were back in the 1920s and early 1930s, because with a minimum of fuss and bother one can get a factory Winchester Model 70 in .375 caliber. Suitable .358 in (9.1 mm) bullets range in weight from 150 to 300 grains (9.7 to 19.4 g). Using a 250-grain (16 g) bullet, the .35 Whelen will generate 3,500 ft⋅lbf (4,700 J) at the muzzle from a 24 in (61 cm) barrel. The .35 Whelen is not the ballistic twin of the .350 Remington Magnum and falls about 500 foot pounds short. With the correct bullet choice this cartridge is suitable for virtually all thin-skinned large and dangerous game.
Choice Ammunition has taken our 100% hand-loading techniques and produce an extremely accurate, highly dependable round for the .35 Whelen in this load. Our loading tolerances are only matched by passionate hand-loaders in their own loading rooms. Consistent seating depths, powder charges and proprietary formulas of Choice Ammunition, make this 200 grain Nosler AccuBond round the best you can buy on the commercial market today.
The Bullet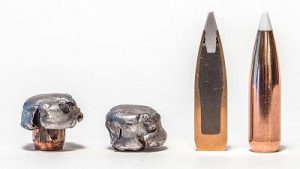 Through an exclusive bonding process that eliminates voids in the bullet core, AccuBond couples Nosler's proven copper-alloy jacket with its special lead-alloy core. The result is a bullet that flies true, penetrates deep and retains its weight, without causing extensive barrel fouling. The unique white polymer tip resists deforming and initiates expansion on impact. Nosler's Solid Base at the rear of the bullet acts as a platform for large diameter mushrooms.
100% Hand Loaded
Velocity 2,750 fps