Description
.308 Winchester 178 Grain Hornady BTHP Match~ The .308 Winchester is a rimless, bottlenecked  rifle cartridge and is the commercial cartridge from which the 7.62x51mm NATO round was derived. The .308 Winchester was introduced in 1952, two years prior to the NATO adoption of the 7.62×51mm NATO T65.  Winchester branded the cartridge and introduced it to the commercial hunting market as the .308 Winchester. Winchester's Model 70, Model 100 and  Model 88 rifles were subsequently chambered for the new cartridge. The .308 Winchester is one of the most popular hunting cartridges in the United States, and possibly the world. It has gained popularity in many countries as an exceptional cartridge for game in the medium- to large-sized class. In North America it is used extensively on whitetail deer, pronghorn and even the occasional caribou or black bear.
While .308 Winchester has traditionally been the most popular cartridge in the past, the development of lighter recoil chamberings with sufficient downrange energy, like the 7mm-08 Remington, .260 Remington, and 6.5 Creedmoor, is becoming more common for metallic silhouette shooting.
Choice Ammunition has taken our 100% hand-loading techniques and produce an extremely accurate, highly dependable round for the .308 Winchester in this load. Our loading tolerances are only matched by passionate hand-loaders in their own loading rooms. Consistent seating depths, powder charges and proprietary formulas of Choice Ammunition, make 178 BTHP round the best you can buy on the commercial market today. We produce this round for numerous long-range schools that use Choice Ammunition exclusively- as well as competitive shooters across the country.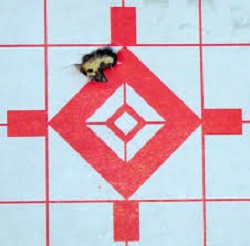 The bullet jackets are a technological advancement in design, tooling and manufacturing that combine to produce the most consistently concentric bullet jackets available. These proven AMP jackets are the foundation for exceptional bullet accuracy and have virtually zero runout and near zero wall thickness variation. Coupled with precision swaged cores and manufactured to the tightest standards in the industry, all Hornady Match bullets provide superior consistency, high ballistic coefficients and unprecedented levels of accuracy.
Velocity: 2640
100% Hand-Loaded