Description
.270 Winchester Short Magnum 150 grain Berger VLD-Hunting~ The 270 Winchester Short Magnum or 270 WSM is a short, unbelted, magnum cartridge created by necking down the .300 Winchester Short Magnum and fitting it with a .277 caliber bullet. The correct name for the cartridge, as listed by the Sporting Arms and Ammunition Manufacturers' Institute (SAAMI), is 270 WSM, without a decimal point. When it was introduced, the 300 WSM sported a new case that showed a lot of promise for uses in other calibers. In 2002 Winchester introduced new cartridges in its Winchester Short Magnum family, including the 7 mm WSM and 270 WSM. This new .270 cartridge was the third commercial .270 ever produced, and the first one in 60 years.
The 270 WSM is an improvement over the older 270 Winchester providing higher velocity with bullets of the same weight, and thus a flatter trajectory and more energy. Velocities tend to be about 250 ft/s (76 m/s) faster, in a cartridge that is shorter and can therefore be used in a shorter action for a more compact rifle if desired. The 270 WSM comes quite close in performance to that of the legendary .270 Weatherby Magnum. Except that the WSM is chambered in a short action and usually sports a 22″ to 24″ barrel where the Weatherby is usually chambered in rifles with a 26″ barrel.
Choice Ammunition loads the .270 WSM with the same 100% hand-loading techniques as our other calibers. Our loading techniques and extremely tight tolerances are only matched by passionate hand-loaders in their own loading rooms. Our consistencies box to box and lot to lot, are created by continuous testing at the range- adjusting varied powder and brass lot formulas to match exact velocities and points of impact as the last time we loaded this caliber. Exact seating depths and our proprietary load formulas produce a round of ammunition you can count on for accuracy and dependability each and every time- and at that critical moment in the field when it all comes down to the shot!
The Bullet-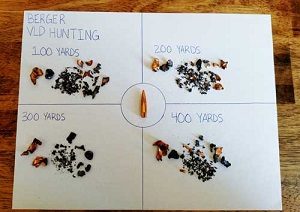 The Berger VLD Hunting bullet line features Very Low Drag (VLD) bullets that have the highest possible ballistic coefficient designed for 300 yards or more, the design incorporates a sharp nose that allows the bullet to penetrate 2″ to 3″ before it starts to expand. After the initial expansion, the bullet will shed between 40% and 85% of its weight as shrapnel into the surrounding tissue (internal organs). The combination between the shrapnel and the hydrostatic shock produces a massive wound cavity within the vital area that will be 13″ – 15″ long. This massive wound cavity results in the animal dropping fast since most go into shock after such a tremendous blow. Those animals that don't go down immediately will soon succumb to blood pressure loss and/or organ failure producing a quick ethical kill.
Velocity 2,933 fps
100% Hand Loaded