Description
.30-06 Springfield 168 Grain Berger VLD-Hunting~ The .30-06 Springfield was introduced to in 1906. The ".30" refers to the caliber of the bullet. The "06" refers to the year the cartridge was adopted—1906. The .30-06 remained the U.S. Army's primary rifle and machine gun cartridge for nearly 50 years before being replaced by the 7.62x51mm NATO (commercial .308 Winchester). The .30-06's power and versatility have kept the round as one of the most popular for hunting big game.
Choice Ammunition has taken our 100% hand-loading techniques and produce an extremely accurate, highly dependable round for the .30-06 in this load. Our loading tolerances are only matched by passionate hand-loaders in their own loading rooms. Consistent seating depths, powder charges and proprietary formulas of Choice Ammunition, make this 168 grain Berger VLD-H round the best you can buy on the commercial market today.
The Bullet-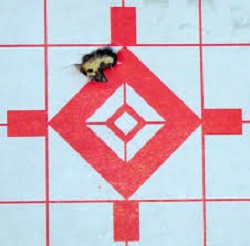 For serious rifle competition, you'll be in championship company with MatchKing® bullets. The hollow point boat tail design provides that extra margin of ballistic performance match shooters need to fire at long ranges under adverse conditions. Sierra MatchKing® Rifle Bullets are designed to excel over long ranges, where high-performance features really make a difference. Boattail design greatly reduces drag, resulting in higher retained velocity, greater striking energy, flatter trajectory, and less wind drift than comparable flat-base bullets.
Velocity: 2,769 fps
100% Hand-Loaded