Description
.264 Winchester Magnum 140 Grain Nosler Competition- The .264 Winchester Magnum is a belted, bottlenecked rifle cartridge. It was introduced in the late 1950s and early 1960s with the .338 Winchester Magnum and the .458 Winchester Magnum as one of a family of short-cased 2.5 in (64 mm) belted magnum cartridges developed by Winchester based on the .375 Holland & Holland parent case.  The .264 Winchester Magnum gained a reputation as a very flat shooting cartridge. When introduced, it was first chambered in the Winchester Model 70 Westerner rifle, which was intended for longer range shooting.
The .264 Win. Mag. is an excellent, potentially accurate, very flat-shooting cartridge capable of taking any game in the lower 48 US states, and one of the most powerful of all .264 in (6.7 mm) cartridges.
Choice Ammunition has taken our 100% hand-loading techniques and produce an extremely accurate, highly dependable round for the .264 Winchester in this load. Our loading tolerances are only matched by passionate hand-loaders in their own loading rooms. Consistent seating depths, powder charges and proprietary formulas of Choice Ammunition, make this 140 grain Nosler Custom Competition round the best you can buy on the commercial market today. Try a box of our .264 Winchester in the Nosler Custom Competition bullets today and experience the new match standard.
The Bullet-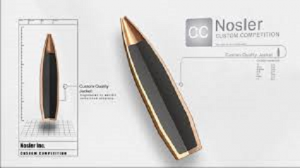 Nosler has blended the accuracy of its Custom Competition bullet jackets with its own ultra-precise, lead-alloy cores to create the performance standard for match rifle and pistol bullets. The hollow point provides a small meplat for reduced drag and increased aerodynamic efficiency while the pronounced boat-tail design provides efficient flight characteristics over a wide range of velocities.
Velocity: 3,000 fps
100% Hand-Loaded