Description
.264 Winchester Magnum 143 Grain Hornady ELD-X- The .264 Winchester Magnum is a belted, bottlenecked rifle cartridge. It was introduced in the late 1950s and early 1960s with the .338 Winchester Magnum and the .458 Winchester Magnum as one of a family of short-cased 2.5 in (64 mm) belted magnum cartridges developed by Winchester based on the .375 Holland & Holland parent case.  The .264 Winchester Magnum gained a reputation as a very flat shooting cartridge. When introduced, it was first chambered in the Winchester Model 70 Westerner rifle, which was intended for longer range shooting.
The .264 Win. Mag. is an excellent, potentially accurate, very flat-shooting cartridge capable of taking any game in the lower 48 US states, and one of the most powerful of all .264 in (6.7 mm) cartridges.
Our 100% Hand-Loaded  143 Grain Hornady ELD-X rounds are loaded with extremely tight tolerances, producing highly accurate, consistent and reliable performance with each and every shot! Our proprietary load formulas and loading process create the finest round of ammunition available on the commercial market today we feel. If you don't load your own ammunition- let us do it for you!
The Bullet-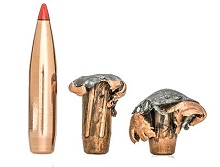 The Heat Shield tip of the Hornady ELD-X bullet defies the effects of aerodynamic heating and retains its shape to provide a perfect meplat (tip) that is always the same shape. A streamlined secant ogive with optimum boattail design, plus the highly concentric AMP bullet jackets, combined with the patent pending Heat Shield tip creates a supremely accurate, high BC match bullet. ELD-Match bullet BCs are measured with Doppler radar and corrected to standard atmospheric conditions. With high velocity, 0-400 yard impact, the bullet continually expands throughout its penetration path. The thick shank of the jacket and high Interlock ring keep the core and jacket together providing 50-60% weight retention. Upon low velocity, 400+ yard impacts, the Heat Shield tip drives backward into the bullet to initiate expansion. Exhibiting conventional expansion with a large mushroom and 85-90% retained weight the bullet provides deep penetration and large wound cavities.
Velocity 3,005 fps
100% Hand Loaded