Description
.260 Remington 140 Hornady ELD-M~ The .260 Remington (also known as 6.5-08 A-Square) cartridge was introduced by Remington in 1997. Many wildcat cartridges based on the .308 Winchester case had existed for years before Remington standardized this round. The .260 Remington has become very popular with metallic silhouette shooters. The 2014 NRA National Championship equipment survey lists the .260 Remington as most popular caliber for both the high power rifle and high power hunter rifle competition. The .260 Remington is effective on antelope, sheep, goat, or caribou. While capable of taking Class 3 game such as elk and moose, some hunters, particularly Canadian professional hunters who hunt large moose and elk, consider it slightly underpowered for these species and best used for smaller deer species such as white-tail and mule deer.
Our 100% Hand-Loaded 140 Grain Hornady ELD-M rounds are loaded with extremely tight tolerances, producing highly accurate, consistent and reliable performance with each and every shot! Our proprietary load formulas and loading process create the finest round of ammunition available on the commercial market today we feel. If you don't load your own ammunition- let us do it for you!
The Bullet-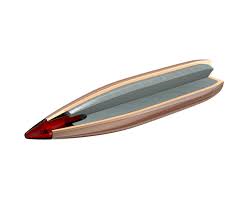 ELD® Match (Extremely Low Drag Match) bullets are technologically advanced, enhanced accuracy target bullets featuring Heat Shield® tips with the PERFECT MEPLAT (tip point) combined with numerous design features that deliver the highest-in-class ballistic coefficients, superior accuracy and extreme consistency from bullet to bullet, lot to lot.
Superior accuracy and industry leading ballistic design has been achieved with the ELD Match bullet. An optimum secant ogive and boattail design along with the Heat Shield tip produce a bullet with the highest possible ballistic coefficient in its class.
Velocity 2,732 fps
100% Hand Loaded