Description
7mm Remington Magnum 162 grain Hornady ELD-M (Match Grade Ammunition)- ~ The 7mm Remington Magnum rifle cartridge was introduced as a commercially available round in 1962, along with the new Remington Model 700 bolt-action rifle. On its introduction, the 7mm Remington Magnum substantially usurped the market share held by the .264 Winchester Magnum, which went into sharp decline in popularity and sales after 1962.  It is a member of the belted magnum family that is directly derived from the venerable .375 H&H Magnum. The original purpose of the belted magnum concept taken from the .300 H&H Magnum was to provide precise headspace control, since the sloping shoulders, while easing cartridge extraction, were unsuitable for this purpose. Improved cartridge extraction reliability is desirable while hunting dangerous game, which would be of concern when needing a fast follow up shot. The 7mm Remington Magnum is based on the commercial Winchester .264 Winchester Magnum, .338 Winchester Magnum, and .458 Winchester Magnum, which were based on the same belted .300 H&H Magnum and .375 H&H Magnum cases, trimmed to nearly the same length as the .270 Weatherby Magnum.
Choice Ammunition has taken our 100% hand-loading techniques and produce an extremely accurate, highly dependable round for the 7mm Remington Mag in this load. Our loading tolerances are only matched by passionate hand-loaders in their own loading rooms. Consistent seating depths, powder charges and proprietary formulas of Choice Ammunition, make this 162 grain Hornady ELD-M round the best you can buy on the commercial market today.
The Bullet-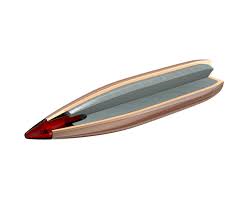 ELD® Match (Extremely Low Drag Match) bullets are technologically advanced, enhanced accuracy target bullets featuring Heat Shield® tips with the PERFECT MEPLAT (tip point) combined with numerous design features that deliver the highest-in-class ballistic coefficients, superior accuracy and extreme consistency from bullet to bullet, lot to lot.
Superior accuracy and industry leading ballistic design has been achieved with the ELD Match bullet. An optimum secant ogive and boattail design along with the Heat Shield tip produce a bullet with the highest possible ballistic coefficient in its class.
Velocity 2,938 fps
100% Hand Loaded