Description
6MM Creedmoor 90 Grain Nosler AccuBond- The 6mm Creedmoor is a necked-down version of the 6.5mm Creedmoor using 6 mm (.243 inch) bullets, lighter than 6.5 mm bullets with similarly-reduced recoil. The 6.5mm Creedmoor (6.5×48 mm) designated 6.5 Creedmoor by SAAMI, 6.5 Creedmoor is a centerfire rifle cartridge developed for Creedmoor Sports and introduced by Hornady in 2007. 
The cartridge was designed specifically for long-range target shooting, although it has success in game hunting. Bullet-for-bullet, the 6.5mm Creedmoor achieves a slower muzzle velocity than longer cartridges such as the 6.5-284 Norma or magnum cartridges such as the 6.5mm Remington Magnum. However, due to its overall length of 2.825 inches (71.8 mm), it is capable of chambering in short-action rifles.
Our 100% Hand-Loaded 90 grain Nosler AccuBond rounds in the 6MM Creedmoor are loaded with extremely tight tolerances, producing highly accurate, consistent and reliable performance with each and every shot! Our proprietary load formulas and loading process create the finest round of ammunition available on the commercial market today we feel. If you don't load your own ammunition- let us do it for you!
The Bullet–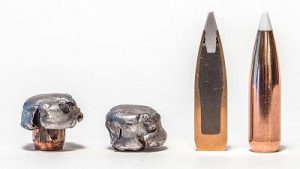 Through an exclusive bonding process that eliminates voids in the bullet core, AccuBond couples Nosler's proven copper-alloy jacket with its special lead-alloy core. The result is a bullet that flies true, penetrates deep and retains its weight, without causing extensive barrel fouling. The unique white polymer tip resists deforming and initiates expansion on impact. Nosler's Solid Base at the rear of the bullet acts as a platform for large diameter mushrooms.
Velocity 3,174 fps
100% Hand Loaded