Description
6.5mm-284 Norma 130 Grain Berger VLD-Hunting- When Winchester released the .284 Winchester in 1963, primarily for hunting, many competitive target shooters saw great potential in both the primary design and as a parent design for wildcatting. The .284 case was short but wide and in comparison to the .30-06 length cartridges, enabled shooters to experiment with a different shaped powder column with hopefully excellent, or at the least, interesting internal ballistics. The .284 was able to fire a 162 grain bullet between 2950 and 3050fps from a 30″ target barrel however the choice of target bullets available for 7mm users during the 1960's was rather poor.
When wildcatters necked the .284 case down to 6.5 during the late 1960's, the resulting 6.5-284 cartridge was able to fire a high BC 140 grain bullet at similar velocities to the parent .284 but with much lower recoil. With advances in 6.5 caliber bullet design and a growing understanding of suitable reloading techniques, the 6.5-284 steadily gained popularity. The wildcat produced excellent results in 1000 yard competition and eventually gained the attention of a number of hunters.
In 1999, the Norma ammunition company of Sweden adopted the wildcat naming it the 6.5-284 Norma.
Choice Ammunition has taken our 100% hand-loading techniques and produce an extremely accurate, highly dependable round for the 6.5mm-284 Norma in this load. Our loading tolerances are only matched by passionate hand-loaders in their own loading rooms. Consistent seating depths, powder charges and proprietary formulas of Choice Ammunition, make this 130 Grain Berger VLD-H round the best you can buy for this caliber on the commercial market today.
The Bullet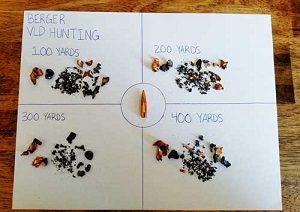 The Berger VLD Hunting bullet line features Very Low Drag (VLD) bullets that have the highest possible ballistic coefficient designed for 300 yards or more, the design incorporates a sharp nose that allows the bullet to penetrate 2″ to 3″ before it starts to expand. After the initial expansion, the bullet will shed between 40% and 85% of its weight as shrapnel into the surrounding tissue (internal organs). The combination between the shrapnel and the hydrostatic shock produces a massive wound cavity within the vital area that will be 13″ – 15″ long. This massive wound cavity results in the animal dropping fast since most go into shock after such a tremendous blow. Those animals that don't go down immediately will soon succumb to blood pressure loss and/or organ failure producing a quick ethical kill.
Velocity 3,098 fps
100% Hand Loaded