Description
6.5 Grendel 130 Grain Berger VLD-H -The 6.5mm Grendel  is an improved variation of the 6.5mm PPC. Since its introduction, it has proven to be a versatile design and is now expanding out into other firearms including bolt-action rifles and the Kalashnikov system. The 6.5mm Grendel design goal was to create an effective 200–800 yard AR-15 magazine-length cartridge for the AR-15 that surpassed the performance of the native 5.56mm NATO/.223 Remington cartridge. Constrained by the length of the 5.56×45mm NATO round, the Grendel designers decided to use a shorter, larger diameter case for higher powder volume while allowing space for long, streamlined, high ballistic coefficient (BC) bullets. The cartridge developer, Bill Alexander, has been quoted as saying he was looking for a cartridge with "more legs" (i.e. longer effective range) than the .50 Beowulf so that it could be used for white tail deer hunting. The round's original marketing for military and police usage created skepticism about its suitability for hunting. Despite this, there has been critical acknowledgement that it is sufficient for deer. Its manufacturer is more enthusiastic, saying that it has "flat trajectories and bullets well-suited to deer and varmints". It is similar to deer cartridges such as the .30-30 Winchester, .257 Roberts and .243 Winchester but is not in the same class as the .270 Winchester or the .30-06. Now that bolt action rifles are being offered in 6.5 Grendel it is appearing at target matches and metallic silhouette competitions.
Choice Ammunition has taken our 100% hand-loading techniques and produce an extremely accurate, highly dependable round for the 6.5 Grendel in this load. Our loading tolerances are only matched by passionate hand-loaders in their own loading rooms. Consistent seating depths, powder charges and proprietary formulas of Choice Ammunition, make this 130 grain Berger VLD-H round the best you can buy on the commercial market today. We are offering more bullet selections in the near future for this caliber.
The Bullet-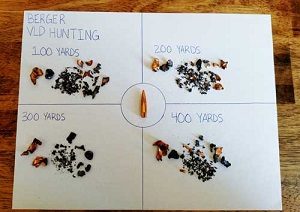 The Berger VLD design incorporates a sharp nose that allows the bullet to penetrate 2″ to 3″ before it starts to expand. After the initial expansion, the bullet will shed between 40% and 85% of its weight as shrapnel into the surrounding tissue (internal organs). The combination between the shrapnel and the hydrostatic shock produces a massive wound cavity within the vital area that will be 13″ – 15″ long. This massive wound cavity results in the animal dropping fast since most go into shock after such a tremendous blow. Those animals that don't go down immediately will soon succumb to blood pressure loss and/or organ failure producing a quick ethical kill.
100% Hand-Loaded
Velocity 2,386 fps
G-1 BC 0.562