Description
44-40 WCF 200 Grain RNFP BLACK Hi-Tek Coated Lead Cowboy Action- The .44 WCF, also known as  .44-40 Winchester, .44 Winchester,  (Winchester Center Fire), was introduced in 1873 by the Winchester Repeating Arms Company. It was the first metallic centerfire cartridge manufactured by Winchester, and was promoted as the standard chambering for the new Winchester Model 1873 rifle. As both a rifle and a handgun caliber, the cartridge soon became widely popular, so much so that the Winchester Model 1873 rifle became known as "The gun that won the West."
When Winchester released the new cartridge, many other firearm companies chambered their guns in the new round. Remington and Marlin released their own rifles and pistols which chambered the round, Colt offered an alternative chambering in its popular Single Action Army revolver in a model known as the Colt Frontier Six-Shooter, and Smith & Wesson began releasing their Smith & Wesson New Model 3 chambered in .44-40. Settlers, lawmen, and cowboys appreciated the convenience of being able to carry a single caliber of ammunition which they could fire in both pistol and rifle. In both law enforcement and hunting usage the .44-40 became the most popular cartridge in the United States and to this day has the reputation of killing more deer than any other save the .30-30 Winchester.
The cartridge was originally sold as .44 Winchester. When the Union Metallic Cartridge Co. (U.M.C.) began selling their own version of the cartridge, it adopted the name .44-40 (shorthand for .44 caliber and the standard load at the time of 40 grains (2.6 g) of black powder), as it did not want to offer free advertising for one of its competitors. Over time the name stuck, and eventually Winchester adopted the .44-40 designation for the round after World War II. Winchester uses the designation 44-40 Winchester on packaging.
Over the years, this was considered an obsolete cartridge with with higher performance calibers and chamberings being developed. With the advent and ever growing popularity of Cowboy Action Shooting, the original 44-40 cartridge has once again began production for use in original 1866 and 1873 Winchester lever action rifles and in imported reproductions.
Choice Ammunition is proud to offer this truly historic cartridge which has been fine tuned and perfected specifically for  use by Cowboy Action Shooters, but is also a high performing round for recreational shooters and those who love to shoot the Guns that Won the West !! Extensive development was put into this cartridge to ensure flawless feeding in 1860, 1866 and 1873 Winchester lever action rifles. Cowboy Action Shooters and modern gunsmiths have modified these lever guns to perform of speeds never imagined by the designers. Highly polished internals, reduced weight springs, modified lifters and linkages allow these rifle to cycle and fire 10 rounds as fast 1.6 seconds. If the ammunition is not made to high standards, this would not be possible. 100% New Brass Cases, BLACK Hi-Tek Coated Bullets !! Almost ZERO Lead Fouling !! 100% Hand Loaded !! Developed by Real Cowboy Action Shooters!! 100% Federal Primers !! Low recoil, a super accurate revolver and rifle round!! We put the same care into each round as you would at your own loading bench !! Meets SASS Power Factor for Cowboy Action and Wild Bunch !!
Cowboy Choice Ammunition is an affiliated SASS Merchant, recognized as a leader in true Cowboy Action Ammunition. Visit the Single Action Shooting Society website at: http://www.sassnet.com/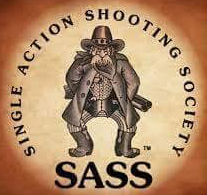 We use a unique heat-set "HI-TEK Supercoat" manufactured in Australia, where it has been used for more than 20 years. The Hi-Tek Supercoat Bullet Coating totally encapsulates the lead projectiles and replaces standard wax lube. These 44-40WCF Cowboy Action Hi-Tek Coated Lead 200 grain RNFP rounds feed reliably in Lever Guns as well.
Our bullets are "Hard-Cast." Hard cast bullets are just that: harder. We use a 92% Lead/6% Antimony/2% Tin bullet alloy for casting all bullets.
Hi-Tek Supercoat bullets are safe to shoot indoors.  The coating gives off no toxic out-gassing or particulate matter when fired. The coating is absolutely nonabrasive and contains no PTFE or MOLY. There is no wax lube and it minimizes your exposure to lead. The end result is cleaner air, cleaner hands, cleaner equipment and cleaner guns!
Check out a video of the Hi-Tek coating process here and see why you might want us to do it for you!!
Velocity: 4.75″ barrel: 505 FPS;   24″ barrel: 786 FPS
Power Factor: Pistol 101;  Rifle: 157
OAL: 1.585
Sized: .427
BHN 12/15
Federal Primers!
Approved for Indoor Ranges!
100% Hand-Loaded
Our bullets greatly reduce the amount of smoke normally associated with cast bullets
Lead fouling of the bore is drastically reduced or in most cases, eliminated completely
Our coating gives off no toxins or particulate matter when fired
Is 100% non abrasive and contains no PTFE or MOLY
Greatly minimizes your exposure to lead